AppTV, Appalachian State University's television station, has come to an agreement with the town of Boone to become its educational community channel. In this role, the station will provide programmatic additions to its schedule, including town council meetings, the town calendar, public service announcements and emergency alerts. As an educational community channel, AppTV will also receive funding from the North Carolina Department of Revenue (NCDOR).
The station, which is housed in the university's Department of Communication within the College of Fine and Applied Arts, will complete paperwork with the NCDOR this summer to officially file for educational community channel status. Currently, there are 145 certified community channels across the state.
AppTV's General Manager Robert Gelber indicated that the agreement with the town is crucial, not only for the channel, but for students in the department and residents in town.
"This partnership secures our ability to have a 24/7 TV channel in the regional broadcast area," he said. "Partnering with the town of Boone protects the station and allows our students to take classroom knowledge and put it into practice locally, which benefits the community."
According to Dr. Jean DeHart, chair in the Department of Communication, the agreement will offer communication students new opportunities to learn.
"The agreement will provide the opportunity for students in the Department of Communication to gain additional experiences and will help us showcase events that happen in the Town of Boone," she remarked.
Town manager John Ward is looking forward to providing an important service to the Boone community.
"The Town of Boone is excited about this new partnership with Appalachian State University and the opportunity to provide an educational community channel for the region," he said. "Open access and an additional means to gain information about the municipal government is important to all citizens."
Gelber is excited to begin work on the new programming initiatives the town has requested, and is grateful to the individuals at Appalachian who helped put the agreement in place.
"We've wanted to become an educational community channel for quite some time, and I'm thankful for the hard work of so many, especially Dr. DeHart, John Ward, Town Attorney Allison Meade, and Assistant General Counsel Jennifer Chrisohon, who worked tirelessly to make this happen."
About the Department of Communication
One of seven departments housed in the College of Fine and Applied Arts, the Department of Communicationat Appalachian State University focuses on preparing students to succeed in the varied fields within the communication industry. The department offers five majors – advertising, communication studies, electronic media/broadcasting, journalism and public relations – and a minor in communication studies. Graduates work in a wide range of positions in media, corporate, agency, government and nonprofit organizations.
About Appalachian State University
Appalachian State University, in North Carolina's Blue Ridge Mountains, prepares students to lead purposeful lives as global citizens who understand and engage their responsibilities in creating a sustainable future for all. The transformational Appalachian experience promotes a spirit of inclusion that brings people together in inspiring ways to acquire and create knowledge, to grow holistically, to act with passion and determination, and embrace diversity and difference. As one of 17 campuses in the University of North Carolina system, Appalachian enrolls about 19,000 students, has a low student-to-faculty ratio and offers more than 150 undergraduate and graduate majors.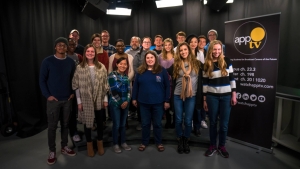 Tags: