The Department of Applied Design's Apparel Design and Merchandising program will present "Showcase 2017" at Holmes Convocation Center on Sunday, April 23 at 4 p.m. This runway-style fashion show, featuring apparel collections designed by Appalachian State University students and faculty, is open to the public.
Dr. Anthony Wilson, assistant professor in the Apparel Design and Merchandising program, teaches the Apparel Design Studio IV course where seniors design apparel collections for the main portion of the runway show. He looks forward to the event as an annual celebration of diverse student work, demonstrating skills in the development, design, production and presentation of a cohesive collection of apparel.
"I am so proud of our students and the amount of hard work they put into bringing their creative visions to life," he stated." I expect this year's Showcase to be one of the best we've ever had."
Students in the Apparel Design and Merchandising program anticipate each annual Showcase to culminate their years of thought, preparation and development while at Appalachian.
Senior Blakeley Rogers of Alpharetta, Georgia, will present her collection created from fabric purchased in Ghana. Rogers is also involved with event promotion, coordinating Showcase's social media presence.
"I'm really excited for Showcase because I feel like everyone in Apparel Production has been working extremely hard on their collections," she shared. "We've all been supporting each other through this process and bonding over the ups and downs that we've dealt with. The positive collaborative environment allows us to create and work at our full potential."
The Apparel Design and Merchandising program encompasses the design, merchandising and marketing of apparel and textile products and provides a comprehensive overview of the global apparel/textile complex. While enrolled in the program, students acquire the skills necessary for the process of apparel product development from concept to consumer, including design, production, distribution, marketing and merchandising.
"Showcase 2017" tickets can be purchased at the Holmes Center box office or via theholmescenter.appstate.edu and are $12 for students, $20 for the general public and $50 for VIP seating next to the runway. To learn more, visit facebook.com/admshowcase2017.
About the Department of Applied Design
One of seven departments housed in the College of Fine and Applied Arts, the Department Applied Design at Appalachian State University fosters excellence in design education, design research and professional placement. The department balances theoretical and pragmatic approaches while exploring an awareness of impact through design decisions on the global community. Faculty focus on a holistic approach to creative problem-solving by integrating sustainability and ethical responsibility in teaching and practice. The department offers bachelor's degrees in apparel design and merchandising, industrial design and interior design.
About Appalachian State University
Appalachian State University, in North Carolina's Blue Ridge Mountains, prepares students to lead purposeful lives as global citizens who understand and engage their responsibilities in creating a sustainable future for all. The transformational Appalachian experience promotes a spirit of inclusion that brings people together in inspiring ways to acquire and create knowledge, to grow holistically, to act with passion and determination, and embrace diversity and difference. As one of 17 campuses in the University of North Carolina system, Appalachian enrolls about 18,000 students, has a low student-to-faculty ratio and offers more than 150 undergraduate and graduate majors.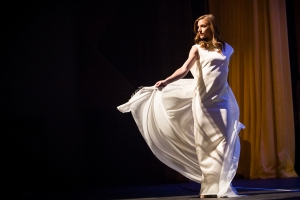 Tags: