This fall, 30 Appalachian State University students enrolled in the first cohort of AppLab 3.0, a multi-disciplinary, six-credit Design Thinking course focused on developing sustainable solutions for local and regional organizations. Over the next three months, the students will work with seven clients, including Appalachian Regional Healthcare System, Blue Ridge Conservancy, Fat Brain Toys and Access Health Africa, to solve complex, real-world problems.
Part of the newly formed Innovation and Design Cooperative, which fosters innovation and creative problem-solving at the university, AppLab 3.0 is open to upper-level students across campus. The course is co-directed by Associate Professor Richard Elaver in the College of Fine and Applied Arts' Department of Applied Design and Dr. Mark Lewis in Walker College of Business' Department of Management. This fall, Dr. Melissa Weddell, associate professor of recreation management, Dr. Scott Collier, professor of health and exercise science and Dr. Peter Nelsen, associate professor of leadership and educational studies, join Elaver and Lewis as AppLab faculty.
The students' first group exercise as part of the course involved a two-day workshop at the IBM Design Center in Durham. Students took a deep dive into the Design Thinking process, a structured, iterative methodology for developing innovative solutions to complex problems. This process is used by designers and multidisciplinary teams at IBM, and will be the backbone of the AppLab class.
"This workshop helped us kickstart the class and effectively launch the students into using the Design Thinking process in their work," said Elaver. "By completing the two-day intensive alongside professional designers, the students became intimately familiar with the process and the benefits of using Design Thinking." As part of the workshop, students were challenged to develop strategies that enticed both Boone residents and Appalachian students to repair, instead of replace, broken items. The IBM design team, including Appalachian alum and IBM's Blockchain UX Lead Kayla White '13, advised and guided the students through the sustainability-focused challenge.
Since AppLab seeks to make the skills of leadership, team work, empathy and perseverance an explicit part of the class, the students also attended several working sessions with Senior Associate Director for Leadership Development Dr. Jim Street while at IBM. Street will be an integral part of the course throughout the semester.
"Taking AppLab students off campus not only speeds up team bonding, but also shows students how the skills they will learn in AppLab are applicable to real organizations," shared Lewis. "The world needs innovators, and visiting IBM's Design Center reinforces this important point."The student teams recently met with representatives from partner organizations who will advise them throughout the semester. Next, they will develop a detailed design brief to guide their project and begin to research their individual topics. The course will culminate in December with final presentations to the AppLab faculty, project clients and members of Appalachian's campus.
About the College of Fine and Applied Arts
Appalachian State University's College of Fine and Applied Arts is a dynamic and innovative group of seven academic departments, bringing together a variety of perspectives, experiences and real-world education to provide unique opportunities for student success. The college has more than 3,000 undergraduate and graduate majors. Its departments are Applied Design, Art, Communication, Military Science and Leadership, Sustainable Development, Sustainable Technology and the Built Environment, and Theatre and Dance.
About the Walker College of Business
The Walker College of Business at Appalachian State University delivers transformational educational experiences that prepare and inspire students to be ethical, innovative and engaged business leaders who positively impact our community, both locally and globally. The college places emphasis on international experiences, sustainable business practices, entrepreneurial programs and real-world applications with industry. Enrolling approximately 2,800 undergraduates in 10 majors and nearly 175 graduate students, the Walker College is accredited by AACSB International – the premier global accrediting body for schools of business.
About Appalachian State University
Appalachian State University, in North Carolina's Blue Ridge Mountains, prepares students to lead purposeful lives as global citizens who understand and engage their responsibilities in creating a sustainable future for all. The transformational Appalachian experience promotes a spirit of inclusion that brings people together in inspiring ways to acquire and create knowledge, to grow holistically, to act with passion and determination, and embrace diversity and difference. As one of 17 campuses in the University of North Carolina system, Appalachian enrolls about 18,000 students, has a low student-to-faculty ratio and offers more than 150 undergraduate and graduate majors.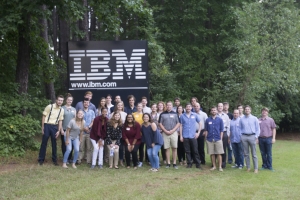 Tags: