The Apparel Design and Merchandising program will present the 2019 Showcase at the Holmes Center on April 27 at 4 p.m.
Showcase is an annual runway-style fashion show of designs created by Appalachian State University students in the Department of Applied Design.
The event is organized and planned by the Visual Merchandising, Display and Promotion class under the supervision and guidance of Dr. Anthony Wilson, assistant professor in the Department of Applied Design, and features a series of cohesive collections created by seniors enrolled in the Apparel Design Studio IV class.
Wilson looks forward to the event as an annual celebration of diverse student work, demonstrating skills in the development, design, production and presentation of a cohesive apparel collection.
"The students have really put forth great efforts to increase the quality of their collections while simultaneously pushing the boundaries of their creativity,"he shared.
Twenty-nine designers will show their collections featuring three outfits each. Specific students enrolled in the Apparel Design Studio I, II and Sustainability in the Apparel Industry courses will also be featured.
Senior apparel design and merchandising major Sydney Sommer of Statesville appreciates the experience Showcase provides.
"I feel as if showcase has been a great platform for me to express my type of style," Sommer explained. "It's an opportunity to design, create and style a collection that is specifically yours, and that has been really special for me."
Tickets are available online and at the door for $20 for the general public and $12 for students and kids. VIP tickets are also available for $50.
Click the link to purchase tickets: http://bit.ly/2V1mQvN
By Caroline Lubinsky
About the Department of Applied Design
One of seven departments housed in the College of Fine and Applied Arts, the Department Applied Design at Appalachian State University fosters excellence in design education, design research and professional placement. The department balances theoretical and pragmatic approaches while exploring an awareness of impact through design decisions on the global community. Faculty focus on a holistic approach to creative problem-solving by integrating sustainability and ethical responsibility in teaching and practice. The department offers bachelor's degrees in apparel design and merchandising, industrial design and interior design.
About Appalachian State University
As the premier, public undergraduate institution in the state of North Carolina, Appalachian State University prepares students to lead purposeful lives as global citizens who understand and engage their responsibilities in creating a sustainable future for all. The Appalachian Experience promotes a spirit of inclusion that brings people together in inspiring ways to acquire and create knowledge, to grow holistically, to act with passion and determination, and to embrace diversity and difference. Located in the Blue Ridge Mountains, Appalachian is one of 17 campuses in the University of North Carolina System. Appalachian enrolls more than 19,000 students, has a low student-to-faculty ratio and offers more than 150 undergraduate and graduate majors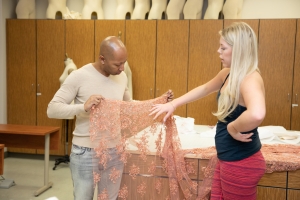 Tags: