The Appalachian State University Department of Theatre and Dance celebrates the 25th anniversary of its Valborg Theatre with a restaging of the classic William Shakespeare play "A Midsummer Night's Dream," the first production to be performed in theatre on its opening in 1994. The production will be presented in the Valborg Theatre on the university's campus at 7 p.m. on April 10 – 12 and at 2 p.m. on April 14, with tickets $10 for students and $17 for adults.
One of Shakespeare's most popular comedies, "A Midsummer Night's Dream" follows the adventures of four young lovers caught in a love triangle. Hermia and Lysander run away to elope against her father's will, much to the displeasure of Demetrius, who is in love with Hermia, and Helena, Hermia's friend who is in love with Demetrius. When they all find themselves in a forest outside of Athens, they – as well as a band of amateur actors rehearsing a play – fall subject to the magical manipulation of a group of fairies who are at odds with one another. A series of love potion-induced antics ensue.
Director and associate professor of theatre Derek Gagnier is aiming to create a uniquely theatrical experience for audiences. "I want people to come to the play and say, 'Yeah, that's theatre. That's what theatre can do as opposed to a movie,'" he commented.
According to Gagnier, that's why he's chosen to include dancing, live singing and audience interaction in this version of the production, which is set in the 1910s.
"We're also doing live sound effects as much as we can so people feel like they're involved and feel a sense of play," he added.
He says that one of his favorite sound effects is an offstage "muah!" whenever a character is hit by the love potion.
Though some may be intimidated by Shakespearian drama, Gagnier wants to assure audiences that this play is for everyone.
"Shakespeare is an acquired taste, but this production is geared towards people who haven't seen a lot of Shakespeare, or any at all." And despite being written in the late 1500s, the theme of the play is something anyone can relate to. "Anybody who's been a teenager in love is going to know what's going on," he said.
Gagnier is especially excited about the production given its history with the Department of Theatre and Dance. "A Midsummer Night's Dream" was the first play produced in the Valborg Theatre when it was built 25 years ago. To celebrate the theatre's anniversary, a special performance of this year's production will take place on April 13 as part of a reunion weekend where alumni and faculty will gather together on Appalachian's campus. More information about the Valborg 25 Alumni Reunion Weekend can be found by visiting https://theatreanddance.appstate.edu/alumni.
"A Midsummer Night's Dream" will be performed in the Valborg Theatre on Appalachian's campus, located at the north side of Chapell Wilson Hall on Howard Street in Boone. The theatre entrance faces the back of the Turchin Center for the Visual Arts on King Street. Parking is available after 5 p.m. on campus in faculty/staff lots and after 5:30 p.m. in the College Street parking deck near Belk Library and Information Commons. For information on purchasing tickets call the Schaefer Center box office toll free at (800) 841-2787, locally at (828) 262-4046, visit the box office in person, or go online at theschaefercenter.org/tickets.
About the Department of Theatre and Dance
The Department of Theatre and Dance is one of seven departments housed in Appalachian's College of Fine and Applied Arts. Its mission is to facilitate transformative experiences for students and the public, which cultivate compassionate, creative and collaborative communities through theatre and dance. The department also offers coursework for integrated learning through the arts to the general university student population. Its dynamic co-curricular production program provides exemplary theatre and dance experiences to departmental students, the university community and the region.
About Appalachian State University
Appalachian State University, in North Carolina's Blue Ridge Mountains, prepares students to lead purposeful lives as global citizens who understand and engage their responsibilities in creating a sustainable future for all. The transformational Appalachian experience promotes a spirit of inclusion that brings people together in inspiring ways to acquire and create knowledge, to grow holistically, to act with passion and determination, and embrace diversity and difference. As one of 17 campuses in the University of North Carolina system, Appalachian enrolls about 19,000 students, has a low student-to-faculty ratio and offers more than 150 undergraduate and graduate majors.
###
Media Contact:
Kevin Warner
warnerks@appstate.edu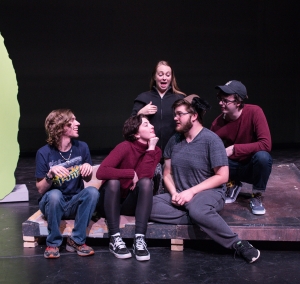 Tags: