The Interior Design program at Appalachian State University hosted the Materials and Finishes Expo on April 5 in the Grandfather Mountain ballroom.
More than 30 vendors attended the event, where they shared their products with students and provided donated goods and funding for future student projects. The materials and finishes on display during the event included soft flooring, resilient flooring, ceilings, horizontal surfaces and textiles.
Students taking the Interior Design Systems course with associate professor Jeanne Mercer-Ballard coordinated the expo. They appointed Destiny Thompson, a sophomore interior design major from Marion, to be the project manager for the event.
"Throughout the months leading up the expo, I was in charge of orders, floorplan designs, parking and scheduling, among other things," Thompson explained. "I was there to make sure everything ran smoothly during the event."
The event was open to interior design, industrial design and building science students looking to gain insight and materials for future projects.
Mercer-Ballard was pleased with the expo, espeically all of the behind-the-scenes work by Thompson, along with classmates Casey Butt, who designed the posters and signage, and Taylor Walker, who managed social media.
"This is our first Materials and Finishes Expo," she shared. "Based on the turnout and feedback, I hope it is something we can continue to put on each year."
As for Thompson, her future in interior design looks bright.
"As a designer, I have a huge responsibility to better the world – whether my design creates better sustainability or accessibility," Thompson said. "Design should not discriminate, so my goal is to create designs that anyone can use with any ability."
By Caroline Lubinsky
About the Department of Applied Design
One of seven departments housed in the College of Fine and Applied Arts, the Department Applied Design at Appalachian State University fosters excellence in design education, design research and professional placement. The department balances theoretical and pragmatic approaches while exploring an awareness of impact through design decisions on the global community. Faculty focus on a holistic approach to creative problem-solving by integrating sustainability and ethical responsibility in teaching and practice. The department offers bachelor's degrees in apparel design and merchandising, industrial design and interior design.
About Appalachian State University
As the premier, public undergraduate institution in the state of North Carolina, Appalachian State University prepares students to lead purposeful lives as global citizens who understand and engage their responsibilities in creating a sustainable future for all. The Appalachian Experience promotes a spirit of inclusion that brings people together in inspiring ways to acquire and create knowledge, to grow holistically, to act with passion and determination, and to embrace diversity and difference. Located in the Blue Ridge Mountains, Appalachian is one of 17 campuses in the University of North Carolina System. Appalachian enrolls more than 19,000 students, has a low student-to-faculty ratio and offers more than 150 undergraduate and graduate majors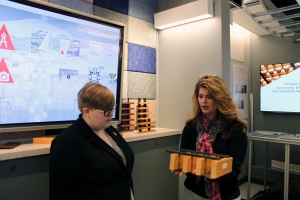 Tags: