BOONE, NC – Now in their 51st season, the Appalachian Young People's Theatre (AYPT) is a dynamic component of the Department of Theatre and Dance at Appalachian State University. Founded in 1972, AYPT works in partnership with communities and public schools of northwestern North Carolina to bring high-quality, affordable, live theatre experiences to young audiences who otherwise see little or no theatre.
During the current spring 2023 semester, AYPT is touring the region with a play based on a beloved Newbery Honor Book by Eleanor Estes. "The Hundred Dresses," adapted by Ralph Covert and G. Riley Mills, is being performed three times for the general public in Boone with performances from April 14 through 16 in Greer Studio Theatre on the university campus.
The show is directed by Professor Gordon Hensley, a well-rounded theatre practitioner and teaching artist with an extensive background in performance, technical work, and theatre education. He has presented hundreds of sessions, workshops, and teacher trainings across the country. Hensley has worked professionally as a puppeteer, actor, and singer in the national and regional arenas for companies including Paramount and Theatre IV. He successfully completed Dick Smith's professional makeup course and has worked in makeup and wigs on 18 national Broadway tours.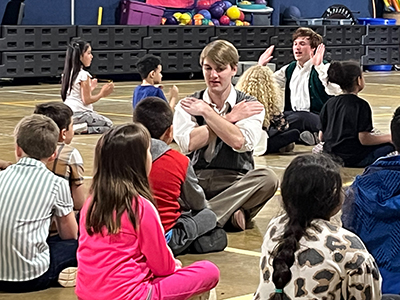 "The Hundred Dresses" is a timeless tale that explores the bonds of friendship, bullying, and forgiveness. Wanda Petronski, a second-grader, lives way up in a shabby house in Boggins Heights, and she doesn't have any friends. Every day she wears a faded blue dress, but she tells her classmates that she has a hundred dresses at home of all fabrics and colors. Soon Maddie, Peggy, Jack, and their classmates make a game of teasing Wanda about her hundred dresses until one day she disappears from school, leaving just an empty seat where she once sat. As feelings of guilt overtake the children, Maddie and the others decide they must find out what happened to Wanda and make amends for the way they treated her.
"The Hundred Dresses" is being produced by special arrangement with the Dramatic Publishing Company of Woodstock, Illinois.
Each spring the AYPT company consists of dedicated undergraduate theatre students who tour to schools, libraries, and museums to perform for approximately 7,500 young people every season. AYPT has also performed at the North Carolina Theatre Conference (NCTC) and the Southeastern Theatre Conference (SETC) Invitational Children's Theatre Festival.
The 13 member AYPT company for 2023 includes Appalachian students Mollie Brantley, Hal Bright, Mia Buckson, Kiersten Caliguire, Bryce Guertin, Evan Little, Allie Mariotte, Caelen Mulleady, Gwen Muncy-Champitto, Ben Perkins, Mike Sousa, Will Taylor, and Brady Warlow.
AYPT has a two-pronged mission: 1) To produce a variety of quality plays with educational value, including fairy tales, folk tales, musicals and plays with contemporary themes for K-8 audiences, and 2) To provide practical experience in producing and performing for young audiences for students seeking degrees in Theatre and/or Education.
In 1996, the Constance Welsh Award for Excellence in Theatre for Youth was presented to by NCTC. In 2016, AYPT received the Sara Spencer Child Drama Award from SETC. This prestigious honor recognized the work of the organization for dynamic and engaging work for young people and is named after children's theatre pioneer and founder of the Children's Theatre Press (now the Anchorage Press) Sara Spencer.
Simple sets, props, costumes, and music are used to bring the Appalachian Young People's Theatre productions to life. The students participating in AYPT coordinate their talents and energy, under the supervision of the faculty director, to build and rehearse the shows for the first half of each spring semester. The troupe then loads the show in a van and trailer to tour northwestern North Carolina for seven weeks every March and April, plus three-days in residence on campus in Appalachian's Greer Studio Theatre.
Each production is adaptable to a variety of performances spaces including gymnasiums, auditoriums, and multi-purpose rooms. Teacher/student study guides are provided with all public school performances.
Performances of "The Hundred Dresses" are scheduled at 7 p.m. on Friday, April 14 and at 2 p.m. on both Saturday and Sunday, April 15 and 16 in the intimate confines Greer Studio Theatre. Tickets are only $5 each and available online through the department website at theatreanddance.appstate.edu as well by phone and in person as the Schaefer Center for the Arts box office, or at the door one hour before each performance.
T&D is proudly housed within the College of Fine and Applied Arts at Appalachian, one of seven departments in the college. The box office numbers are 828-262-4046 or 800-841-2787 and their website may be found at www.theatreanddance.appstate.edu.
###
About the Department of Theatre and Dance
The Department of Theatre and Dance is one of seven departments housed in Appalachian's College of Fine and Applied Arts. Its mission is to facilitate transformative experiences for students and the public, which cultivate compassionate, creative, and collaborative communities through theatre and dance. The department also offers coursework for integrated learning through the arts to the general university student population. Its dynamic co-curricular production program provides exemplary theatre and dance experiences to departmental students, the university community and the region.
About Appalachian State University
Appalachian State University, in North Carolina's Blue Ridge Mountains, prepares students to lead purposeful lives as global citizens who understand and engage their responsibilities in creating a sustainable future for all. The transformational Appalachian experience promotes a spirit of inclusion that brings people together in inspiring ways to acquire and create knowledge, to grow holistically, to act with passion and determination, and embrace diversity and difference. As one of 17 campuses in the University of North Carolina system, Appalachian enrolls 20,641 students, has a low student-to-faculty ratio, and offers more than 150 undergraduate and graduate majors.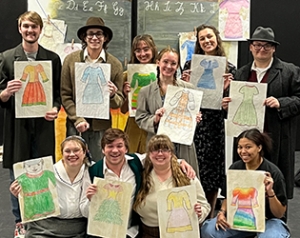 Tags: