The Appalachian State University Department of Theatre and Dance invites you into the world of Shakespeare's Much Ado About Nothing. The show runs for two weeks with performances at 7 p.m. on October 25, 26, 27 and 28, a 2 p.m. matinee on October 29, and 7 p.m. performances on November 1, 2, 3 and 4. The production is being staged in I.G. Greer Studio Theatre on the University campus. Tickets are $7 for students and $12 for adults. For more information, contact the Valborg Theatre box office at 828-262-3063, call the Schaefer Center box office toll-free at 800-841-ARTS (2787), or visit the website at www.theatreanddance.appstate.edu.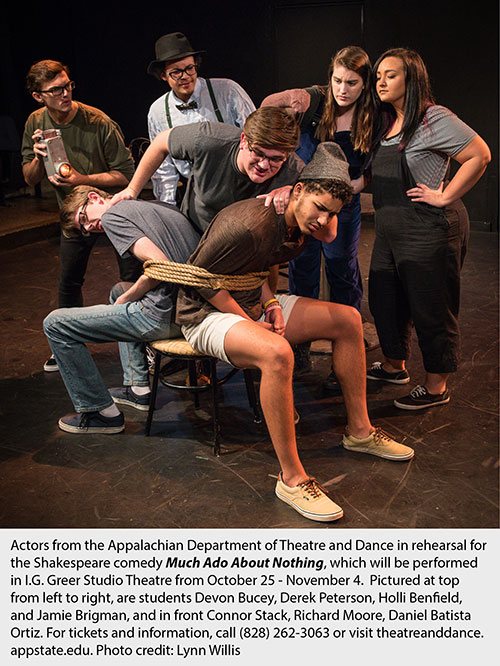 Much Ado About Nothing roars to life in this experimentally-staged production given a fresh concept by director Derek Gagnier, Associate Professor of Theatre and coordinator of the department's performance concentration in theatre. Gagnier says, "William Shakespeare's 1599 play, Much Ado About Nothing, is very much about what people perceive when they are in love. In this play, signals from lovers, either through behavior or outward appearance, are often misread or misunderstood. Beatrice and Benedick, and for that matter Claudio and Don John, are so readily influenced by the manipulations of other characters, that it seems no one in love should trust their eyes and ears!"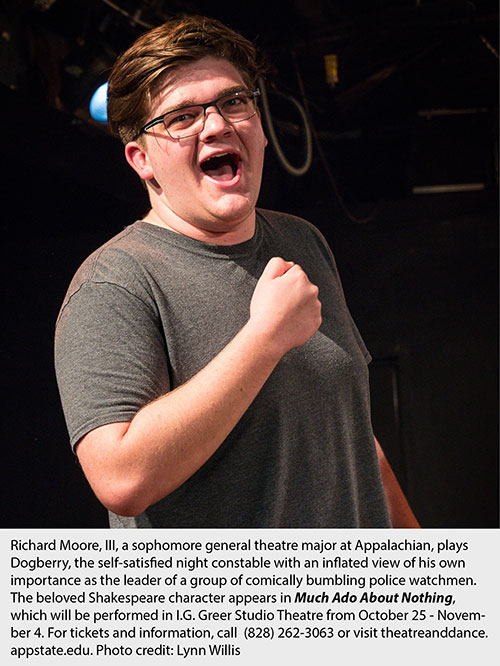 Gagnier knew from the beginning that he wanted the audience to be heavily involved in the show. He describes the show as "highly interactive" and "experimentally staged," making use of I.G. Greer's unique, intimate performance space. In his director's note, Gagnier says, "To make the production more accessible and immediate, we have set the play in Messina, Sicily in the 1950's, taking advantage of the music of the time to help create an inviting, romanticized place for the audience to come visit. We furthered this by adding outside seating to our little trattoria, allowing the audience to feel like they are seated within the action."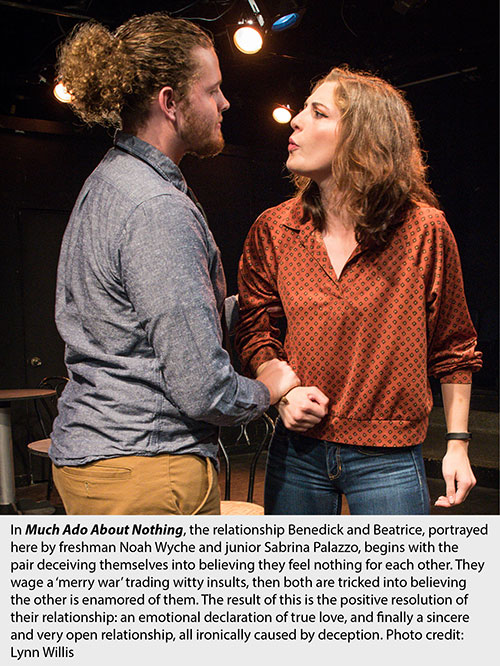 Despite the intimacy of the venue, Much Ado About Nothing has a full cast, including 23 people, and a sock puppet. Gagnier takes pride in the fact that his cast is make up of students from every class enrolled at the university, including freshmen, sophomores, juniors, seniors and transfer students.
About I.G Greer Studio Theatre
The I.G Greer Studio Theatre is located on east campus underneath I.G. Greer Hall, located at 401 Academy Street in Boone. The theatre entrance is a large red door situated on the northeast side of the building on the lower level. Parking is available after 5 p.m. on campus in faculty/staff lots, and after 5:30 p.m. in the College Street parking deck near Belk Library and Information Commons.
Much Ado About Nothing runs Wednesday, October 25 through Saturday, November 4. Evening shows are at 7 p.m. on Wednesdays, Thursdays, Fridays, and Saturdays with a matinee performance at 2 p.m. on Sunday, October 29. There are no performances on Monday or Tuesday between the weeks of the run.
Ticket prices are $7 for students and $12 for adults. Tickets are available in person at the Schaefer Center for the Performing Arts box office Monday through Friday 9 A.M. through 5 P.M., by phone at 800-841-ARTS (2787), OR 828-262-4046, at the Valborg Theatre Box Office Monday through Friday 1 through 5 P.M., and online http://theatreanddance.appstate.edu.
About the Department of Theatre and Dance
The Department of Theatre and Dance is one of seven departments housed in Appalachian's College of Fine and Applied Arts. Its mission is to facilitate transformative experiences for students and the public, which cultivate compassionate, creative and collaborative communities through theatre and dance. The department also offers coursework for integrated learning through the arts to the general university student population. Its dynamic co-curricular production program provides exemplary theatre and dance experiences to departmental students, the university community and the region.
About Appalachian State University
Appalachian State University, in North Carolina's Blue Ridge Mountains, prepares students to lead purposeful lives as global citizens who understand and engage their responsibilities in creating a sustainable future for all. The transformational Appalachian experience promotes a spirit of inclusion that brings people together in inspiring ways to acquire and create knowledge, to grow holistically, to act with passion and determination, and embrace diversity and difference. As one of 17 campuses in the University of North Carolina system, Appalachian enrolls about 18,000 students, has a low student-to-faculty ratio and offers more than 150 undergraduate and graduate majors.
MEDIA CONTACT:
Keith Martin
(828)-262-8179
Martinkt1@appstate.edu
Tags: