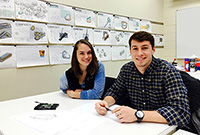 BOONE—A simple class project turned into a rewarding real-world experience for two Appalachian State University industrial design majors from the Department of Applied Design.
Nimble Bee is a design competition portal that seeks to connect manufacturing companies with design students. Nimble Bee soon will announce another competition and Appalachian industrial design students will be encouraged to participate, Rall said.Now juniors, Elizabeth Foster and Garrett Peebles worked together to develop a solution to the design brief that was assigned to them during their sophomore design studio led by Assistant Professor Michael Rall. As part of an international design competition hosted by Nimble Bee, they worked to develop beverage packaging solutions that would enhance the buying experience. In the end, Foster and Peebles placed second among all entries and won 2,000 Euros, or almost $2,260 at the current exchange rate.
The students began the project by researching the current market and analyzing customer feedback about the pros and cons to carrying both "basket" and "case" style cardboard packaging. After choosing a style of packaging to redesign, they conceived new concepts to solve their three main issues. Throughout the design process, they received help along the way from their classmates, professor and those at Howest, a partner institution in Belgium who offered meaningful feedback and raised important questions.
"This competition exposed us to outside markets that we wouldn't normally see in the small town of Boone. Through the online forum we were able to communicate with actual consumers all over the world and create a design that better addressed their concerns. In the end our design met the consumers' needs" Foster said. By the end of the semester they had submitted a final concept and been contacted as a finalist for the competition.
Over the next few months they worked outside of class to refine and prototype their solution. By making several full-size prototypes they were able to validate their solution for both form and function. "Working as a team with Elizabeth was a much different and rewarding experience. Up until now we had only completed individual projects. It was a more real-world experience because in the professional industry projects are shared amongst designers. Additionally, the constant constructive feedback aided in the development of our design," Peebles said.
To complete the project, they submitted a final visual presentation that contained a final rendering, in-context rendering, flat pattern of the package and images from their prototype testing. Foster and Peebles placed second overall in the international competition from countless entries both nationally and internationally.
Because of intellectual property rights, their final design cannot be published.
"The Nimble Bee competition portal allowed our students at Appalachian State to communicate with their peers in Belgium at Howest. I believe this opened their eyes to the many differences between packaging here in the U.S. and abroad," Rall said.