Appalachian State University industrial design seniors Rickey Bell of Davie County, Myers Welborn of Lexington and Nathan Haeme of Boone each received a first place award in the 31st annual Mockett Design Competition for projects completed during their Product Design Studio III course led by Assistant Professor Michael Rall in Fall 2016. The competition seeks innovative solutions in the furniture parts, components, accessories and hardware categories. All three received a $1,000 award and a 15-year license agreement with Mockett, who will produce and sell their wining items while providing royalties to the students.
The competition challenged students to improve on a product category from Mockett's portfolio, and Rall saw a great opportunity for his class to get ahead.
"Competing and winning a design competition is a great way to set yourself apart in the very competitive field of industrial design," he said. "Each of these students now have additional validation of their design skills which other employers will take notice of."
Bell and Welborn pursued designs for the panel divider bracket category while Haeme designed a new coat hook that's also a sconce. The students developed designs through a series of sketches and models created using a 3D printer before submitting an in-context rendering of their final solution.
As someone who aspires to bring ideas to life, Bell has always wanted to create. After doing a bit of research during the competition, he realized that Mockett valued product simplicity in both form and manufacturability. "I decided that designing a panel bracket would be the best way for me to show a clean and elegant form," he said.
Welborn, who considers the industrial design major at Appalachian to be a natural fit, decided to design an innovative piece of furniture hardware with an added benefit. "I wanted to add a secondary function to the bracket, and decided on a cord management slot for organizing wild desktop cords," he said.
Haeme, who also believes the industrial design major is a perfect match for his career aspirations, was drawn to the idea of a dual-purpose product as well. "It's always been a passion of mine to create," he said. "The driving force behind my idea was to create a product for the home that consumers would be drawn toward as an accessory as much as a functional product."
Doug Mockett, founder of Mockett and Company, Inc., had high praise for all three students and is looking forward to the next phase. "All of the designs will now move forward toward production, where they will be sold under the Mockett brand," he said.
The students are also looking ahead to their next steps. Welborn, who graduates in December, always knew he wanted to work with his hands. "I specialize in metal design and fabrication," he said, "and I ultimately hope to hold a career in the firearm or aftermarket automotive industries."
Haeme, who graduates in August, would like to consult. "Consulting will give me the opportunity to solve a variety of problems through design," he remarked. "I would rather work through the entire process instead of having a career that only allows me to work on a small aspect of the design."
And Bell, who graduates this coming May, is an entrepreneur. "I would love to one day have my own business," he said. "But until then, I would like to work at a company where I can make and design many different things."
About Doug Mockett & Company, Inc.
Doug Mockett & Company, Inc. is based in Manhattan Beach, California and offers over 5,000 products in a wide range of categories. A leader in innovative furniture components and architectural hardware, the company strives for simplicity in design and a sparseness in execution, with customer satisfaction as a number one goal. To learn more, visit http://www.mockett.com/.
About the Department of Applied Design
One of seven departments housed in the College of Fine and Applied Arts, the Department Applied Design at Appalachian State University fosters excellence in design education, design research and professional placement. The department balances theoretical and pragmatic approaches while exploring an awareness of impact through design decisions on the global community. Faculty focus on a holistic approach to creative problem-solving by integrating sustainability and ethical responsibility in teaching and practice. The department offers bachelor's degrees in apparel design and merchandising, industrial design and interior design.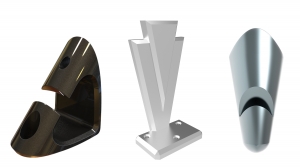 Tags: