By Anna Rhodes
The Department of Theatre and Dance at Appalachian State University selected junior dance studies major Elijah Lee Grady to showcase his original choreography during the North Carolina Dance Education Organization's (NCDEO) statewide conference on Feb. 10 at Northwest School of the Arts in Charlotte. Grady's work was featured in November 2017 during the Fall Appalachian Dance Ensemble (FADE) as part of Appalachian's theatre and dance season. He collaborated with his dancers to create "Flux," which is set to the Kyle Landry rendition of the song "Dearly Beloved." A Charlotte native, Grady is the current president of Entropy, a hip-hop-based dance troupe on campus.
Grady experienced many valuable educational moments while at the conference.
"Having the opportunity to see my piece on another stage with a different audience was eye-opening. I have a long way to go, but feel I am going in the right direction with my dancing," he shared. "The speakers gave wonderful insights on the dance education community in North Carolina that I will remember for years to come."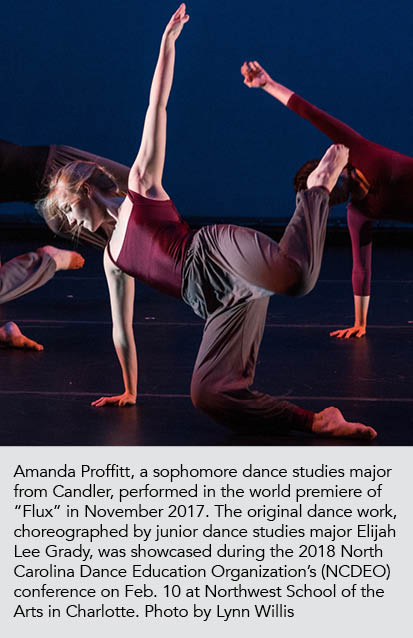 Grady also recalled the talent displayed at the event and stated, "it helped me see that there are hundreds of great dancers out there, and we all fit in and deserve the chance to let our light shine through our dancing."
Associate Professor of Dance Studies Susan Lutz was closely involved with the process and was extremely proud the maturity and professionalism demonstrated in the choreography and dancing.
It is a wonderful experience for our students to be able to place themselves alongside various student choreographers and dancers within other programs in our state and region. In this instance, I believe our students came away feeling satisfied and encouraged," she recalled. "The audience reception was exceptionally positive and I received multiple compliments from other teachers. Having their work appreciated and recognized in this manner is important and I hope we will be able to continue to present our students in these venues."
More original work like Grady's can be seen in Appalachian's upcoming Spring Appalachian Dance Ensemble opening on March 21 in the Valborg Theatre on Appalachian's campus. For information on purchasing tickets call the Schaefer Center box office toll free at (800) 841-2787, locally at (828) 262-4046, visit the box office in person, or go online at theschaefercenter.org/tickets.
About the Department of Theatre and Dance
The Department of Theatre and Dance is one of seven departments housed in Appalachian's College of Fine and Applied Arts. Its mission is to facilitate transformative experiences for students and the public, which cultivate compassionate, creative and collaborative communities through theatre and dance. The department also offers coursework for integrated learning through the arts to the general university student population. Its dynamic co-curricular production program provides exemplary theatre and dance experiences to departmental students, the university community and the region.
About Appalachian
Appalachian State University, in North Carolina's Blue Ridge Mountains, prepares students to lead purposeful lives as global citizens who understand and engage their responsibilities in creating a sustainable future for all. The transformational Appalachian experience promotes a spirit of inclusion that brings people together in inspiring ways to acquire and create knowledge, to grow holistically, to act with passion and determination, and embrace diversity and difference. As one of 17 campuses in the University of North Carolina system, Appalachian enrolls about 19,000 students, has a low student-to-faculty ratio and offers more than 150 undergraduate and graduate majors.
###
Media Contact:
Keith Martin
martinkt1@appstate.edu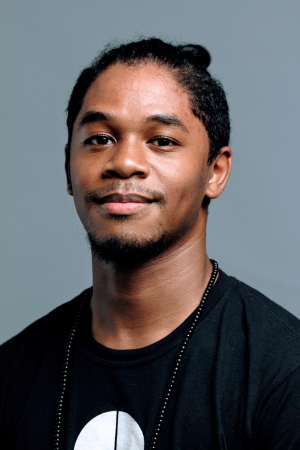 Tags: