By John Craft
Senior graphic arts and imaging technology major Morgan Batley has been named "Best of the Best" by the International Corrugated Packaging Foundation (ICPF) for her award-winning tailgate party pack. Batley, of Mooresville, advanced to the final competition after winning first place in the graphic design category for her design in October, and will take home a $500 prize.
At the final competition, Batley was given five minutes to sell her design during a live teleconference on Feb. 23. The audience was comprised of more than 500 faculty and students across the country, as well a panel of professionals in the packaging and design field. Her competitors included student teams from Cal-Poly and Millersville University.
"It was a huge honor to be able to represent App State in this competition," she said. "The live presentation experience was definitely a change since I had to actually sell my product to a panel of judges. It was definitely intimidating to have to describe and sell my product in 5 minutes, but I was told that this was my best presentation yet."
Batley designed her "Party Pack for App State Homecoming" as part of a project in Dr. Mandy Wu's Introduction to Packaging class in spring 2016. Wu challenged her students to design for the competition and told the class she would submit the best project to the committee.
"Wu deserves a tremendous amount of credit for mentoring Morgan towards mastering the ArtiosCAD software and outputting her designs using the 3D sample maker cutting table," said John Craft, professor of graphic arts and imaging technology. "Without Dr. Wu's guidance and dedication in teaching Morgan, this award would not be possible for our program."
As for Batley, she's spoken to an attorney to get an estimate on a patent for her design. She's also been in touch with the general manager of the Kannapolis Intimidators, the minor league baseball team where she interned last summer. The team has expressed interest in selling her product in the stadium during games.
"I've gotten numerous requests for these from colleagues, friends and families," she shared. "I plan on taking the design to different packaging companies to get an estimate on how much these would cost to make so that I can begin production."
Students and faculty in the Graphic Arts and Imaging Technology program participate in the teleconference, which is hosted by Michigan State University, on an annual basis. In addition to the live competition, this year's event included a panel discussion of career opportunities in the packaging and design industry. Students and faculty from 18 universities, including University of Florida, Virginia Tech and Clemson University, took part in the telecast.
About the Department of Art
One of seven departments housed in the College of Fine and Applied Arts, the Department of Art at Appalachian State University prepares students to explore art, identity, expression and creative problem-solving while challenging them to go beyond their previous limits by discovering new connections to culture. The department offers degrees in art and visual culture, art education, graphic design, studio art, commercial photography and graphic arts and imaging technology, with minors in art history, studio art, commercial photography and graphic arts and imaging technology.
About Appalachian
Appalachian State University, in North Carolina's Blue Ridge Mountains, prepares students to lead purposeful lives as global citizens who understand and engage their responsibilities in creating a sustainable future for all. The transformational Appalachian experience promotes a spirit of inclusion that brings people together in inspiring ways to acquire and create knowledge, to grow holistically, to act with passion and determination, and embrace diversity and difference. As one of 17 campuses in the University of North Carolina system, Appalachian enrolls about 18,000 students, has a low student-to-faculty ratio and offers more than 150 undergraduate and graduate majors.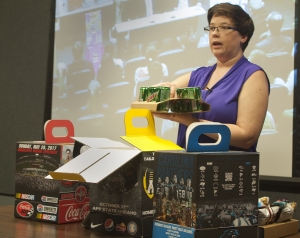 Tags: