By Mary Anne Savage
On Feb. 2, Boone locals enjoyed a sneak peek preview of LOAM, a production conceived and performed by Assistant Professor of Dance Studies Cara Hagan. Hosted by Neighborhood Yoga, the event was part of the Boone First Friday Art Crawl.
Hagan was excited to share her newest piece with the Boone community. She described LOAM as "an experience of movement and sound exploring the relationship between the human body and soil."
In addition to her performance, Hagan created an installation which included her personal work and showcased poetry, a film representation and natural artifacts. The installation provided attendees a chance to understand LOAM via alternative mediums.
One of her poems on display was a recipe for reconnection:
a handful of dirt
bring it close to you and smell
remember your roots
"My practice has long included mindfulness and yoga, however this piece integrates the two in a very tangible way," she shared. "When compared to other work that is often visually and aurally dynamic, LOAM is an experience in subtlety that still includes the whimsy that is so present in my work."
During her performance, the audience could feel the different points of emphasis and sense of urgency in her motion. The energy developed throughout the piece and was expressed by Hagan's pacing around the floor and the intensity of each breath.
She describes the performance as, "The arts and socio-political worlds come together in this piece to explore our relationship to a world impacted by our forgetting that we are a part of it," she said. "While much of my work is political in nature, exploring issues like race and gender, this work explores socio-political discourse through contemplative practice that is evident through the experience of the work."
Hagan will offer the world premier of LOAM this March at the Treehouse Studios in Durham. This spring and summer, she will take LOAM on tour, traveling to multiple states and potentially to Europe.
About the Department of Theatre and Dance
The Department of Theatre and Dance is one of seven departments housed in Appalachian's College of Fine and Applied Arts. Its mission is to facilitate transformative experiences for students and the public, which cultivate compassionate, creative and collaborative communities through theatre and dance. The department also offers coursework for integrated learning through the arts to the general university student population. Its dynamic co-curricular production program provides exemplary theatre and dance experiences to departmental students, the university community and the region.
About Appalachian State University
Appalachian State University, in North Carolina's Blue Ridge Mountains, prepares students to lead purposeful lives as global citizens who understand and engage their responsibilities in creating a sustainable future for all. The transformational Appalachian experience promotes a spirit of inclusion that brings people together in inspiring ways to acquire and create knowledge, to grow holistically, to act with passion and determination, and embrace diversity and difference. As one of 17 campuses in the University of North Carolina system, Appalachian enrolls about 19,000 students, has a low student-to-faculty ratio and offers more than 150 undergraduate and graduate majors.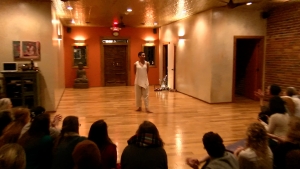 Tags: