"Troubled Water: Voices from Bath" is a multi-media presentation on the proposed Atlantic Coast Pipeline (ACP). The event uses exquisite photography, personal interviews and a moving documentary film to share the stories of one Virginia community's struggle against the proposed Atlantic Coast Pipeline to maintain its relationship with the land and its dreams for the future. This event will take place on Wednesday, April 19 from 6-7:30 p.m. in Peacock Hall, Room 1010, on the campus of Appalachian State University.
Seeking to illuminate how the proposed Atlantic Coast Pipeline will impact those living closest to it, professional photographer and Bath County resident Lee Brauer partnered with Barbara Adams, a member of Interfaith Climate Justice and Quaker Earthcare Witness in Richmond, Virginia, and Julian McBain and Sam Wright, student environmental activists at Virginia Commonwealth University, to create "Troubled Water: Voices from Bath."

Bath County residents are overwhelmingly united against the ACP and have joined others in the state sharing the same perspective. This creative venture highlights those with a deep understanding of the county's unique environment – karst mountain topography and hydrology; scenic mountain roads; bridges and forests threatened by the need to transport large, heavy equipment; and unparalleled pristine springs, streams and rivers – of the Bath County region and the heartland of Virginia.

After the film screening, please join documentary filmmaker Barbara Adams and special guest Vanessa Bolin of the Choctaw and Cherokee nations to discuss potential environmental and social justice impacts of the proposed Atlantic Coast Pipeline.
To learn more, contact Dr. Jennifer Westerman in the Goodnight Family Department of Sustainable Development at 828.262.2493 or westermanjh@appstate.edu.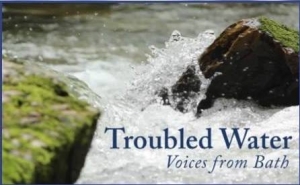 Tags: