By Amy Briggs, Maddie Kiger, Hannah Harvey and Michele Zaremba
The Appalachian State University Department of Theatre and Dance will present the docu-drama "Radium Girls" by D. W. Gregory in Valborg Theatre on the university campus Oct. 4-8. Performances are scheduled for 7 p.m. October 4–7, with a 2 p.m. matinee on Oct. 8. Tickets are $10 for students and $17 for adults
Based on true events in the 1920s and 1930s, "Radium Girls" is the story of Grace Fryer, a young woman who works for the U.S. Radium Corporation painting watch dials. When Grace and her colleagues become sick, they learn that the dial paint, which contains radium, is poisonous. The story follows Grace as she confronts her employer, a large corporation run primarily by men. A classic "David versus Goliath" storyline, the characters are real people whose graves still register radiation contamination on a Geiger counter almost 100 years after their untimely deaths.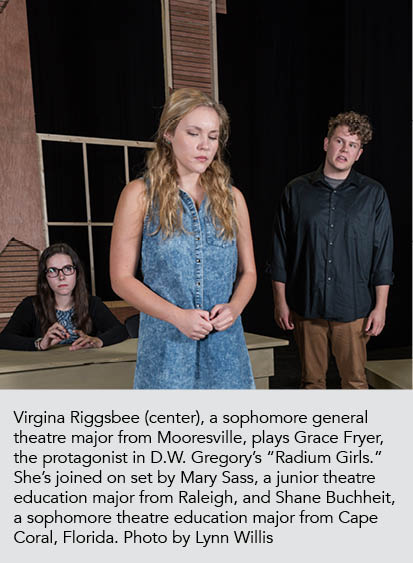 According to director Gordon Hensley, radium was widely believed to be non-hazardous in the 1920s. The element was included in women's makeup, mixed into water and even believed to be a cure for cancer. Hensley, a theatre professor in his 13th year at Appalachian, sees similarities in our cultural practices today.
"We as a society tend to jump onboard with the latest trend, without necessarily knowing that it may be hazardous to our health," he remarked.
A primary focus for Hensley is the theme of "decaying from within" - both the physical decay of the women suffering from radium's effects and the moral decay of the male employers who do not stand up for their employees for fear of losing their jobs.
Under Hensley's direction, ten actors will be portraying more than 30 different characters. The production's design team will use simple props and costume pieces, as well as distinctive pools of light, to suggest a change in environment or character. By adopting a presentational style of acting that blends both realism and non-realism, Hensley hopes to emphasize the storyline over the spectacle.
To purchase tickets, contact the Valborg Theatre box office at 828-262-3063, the Schaefer Center for the Performing Arts box office toll-free at 800-841-ARTS (2787), or visit http://theatreanddance.appstate.edu.
The Valborg Theatre is located on campus at the north side of Chapell Wilson Hall on Howard Street. The theatre entrance faces the back of the Turchin Center for the Visual Arts on King Street. Parking is available after 5 p.m. on campus in faculty/staff lots and after 5:30 p.m. in the College Street parking deck near Belk Library and Information Commons.
About the Department of Theatre and Dance
The Department of Theatre and Dance is one of seven departments housed in Appalachian's College of Fine and Applied Arts. Its mission is to facilitate transformative experiences for students and the public, which cultivate compassionate, creative and collaborative communities through theatre and dance. The department also offers coursework for integrated learning through the arts to the general university student population. Its dynamic co-curricular production program provides exemplary theatre and dance
About Appalachian State University
Appalachian State University, in North Carolina's Blue Ridge Mountains, prepares students to lead purposeful lives as global citizens who understand and engage their responsibilities in creating a sustainable future for all. The transformational Appalachian experience promotes a spirit of inclusion that brings people together in inspiring ways to acquire and create knowledge, to grow holistically, to act with passion and determination, and embrace diversity and difference. As one of 17 campuses in the University of North Carolina system, Appalachian enrolls about 18,000 students, has a low student-to-faculty ratio and offers more than 150 undergraduate and graduate majors.
MEDIA CONTACT:
Keith Martin
(828)-262-8179
Martinkt1@appstate.edu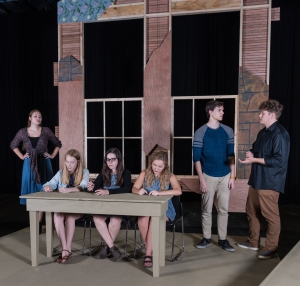 Tags: