BOONE, NC - Appalachian State University Interior Design Program has received a renewed accreditation from the Council for Interior Design Accreditation for the third consecutive time since first seeking accreditation in 2009.
In addition, Appalachian State University received "no weaknesses" in the Visiting Team Report for the third time in a row based on sixteen accreditation standards that reflect the program's ability to provide unparalleled educational experiences and opportunities for students. This is very unusual and reflects the dedication to be among the elite programs.
CIDA accreditation standards are divided into two categories, including "Program Identity and Context" and "Knowledge Acquisition and Application."
"I always rave about the quality of our interior design students, and they deserve to graduate from a CIDA-accredited program. CIDA is third-party validation of the high caliber of our program and the standard for interior design education accreditation. Top employers seek interns and graduates from CIDA-accredited programs. Additionally, the quality of our program and CIDA accreditation status helps our students seek NCIDQ certification," said Jeanne Mercer-Ballard, Associate Professor and CIDA Coordinator.
Appalachian State University's interior design program places particular emphasis on environmental responsibility, community, service, global issues, and universal design to prepare students for the challenges of the ever-changing profession. Its curriculum integrates theory and application and prepares students to work in either residential or commercial design.
Quality firms look for potential employees from universities that are accredited by CIDA. The faculty and administration at Appalachian State University spend considerable time on this process for the benefit of the student.
The Interior Design program graciously utilizes support, including donations from alumni to help make this accreditation happen. This also strengthens the university's commitment to offering applied learning, the great synergy between students and faculty, study abroad opportunities, global connections, and competing and winning regional, national, and international awards.
About the Department of Applied Design
One of seven departments housed in the College of Fine and Applied Arts, the Department of Applied Design at Appalachian State University fosters excellence in design education, design research, and professional placement. The department balances theoretical and pragmatic approaches while exploring an awareness of impact through design decisions on the global community. Faculty focus on a holistic approach to creative problem-solving by integrating sustainability and ethical responsibility in teaching and practice. The department offers bachelor's degrees in apparel design and merchandising, industrial design, and interior design.
About the College of Fine and Applied Arts
Appalachian State University's College of Fine and Applied Arts is a dynamic and innovative group of seven academic departments, bringing together a variety of perspectives, experiences, and real-world education to provide unique opportunities for student success. The college has more than 3,500 undergraduate and graduate majors. Its departments are Applied Design, Art, Communication, Military Science and Leadership, Sustainable Development, Sustainable Technology and the Built Environment, and Theatre and Dance. Learn more at https://faa.appstate.edu.

About Appalachian State University
As the premier public undergraduate institution in the state of North Carolina, Appalachian State University prepares students to lead purposeful lives as global citizens who understand and engage their responsibilities in creating a sustainable future for all. The Appalachian Experience promotes a spirit of inclusion that brings people together in inspiring ways to acquire and create knowledge, grow holistically, act with passion and determination, and embrace diversity and difference. Located in the Blue Ridge Mountains, Appalachian is one of 17 campuses in the University of North Carolina System. Appalachian enrolls more than 20,000 students, has a low student-to-faculty ratio, and offers more than 150 undergraduate and graduate majors.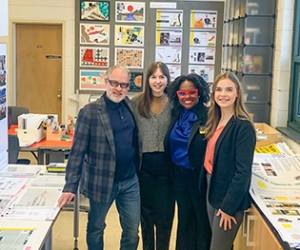 Tags: