By: Nancye Edwards
Appalachian's Department of Theatre and Dance will present its first spring stage production, "Silence," by British playwright Moira Buffini Feb. 22–25 at 7 p.m. and on Feb. 26 at 2 p.m. in the Valborg Theater on the university's campus. Ticket prices are $10 for students and $17 for adults and are available at the Schaefer Center for the Performing Arts box office , the Valborg Theatre box office and online at www.theatreanddance.appstate.edu.
Set in England at the turn of the first millennium, Monty Python meets "Game of Thrones" in this dark comedy. King Ethelred, the "Unready of England," forces the fiercely independent Princess Ymma of Normandy to marry a 14-year-old Viking Lord named Silence. When King Ethelred turns against the couple, they flee across the countryside with a doubting priest, a mouthy servant and a brutal soldier who has "visions" and yearns to speak telepathically. As violence unfurls around them, this motley group seeks a place where they can escape the restrictions of their society and live as their true selves.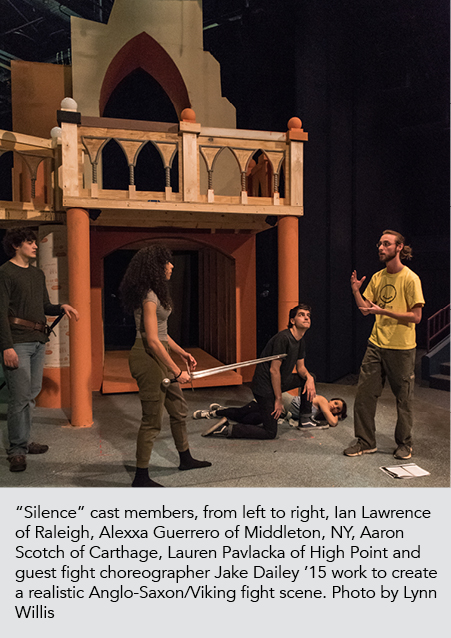 This production continues the season's theme of all female playwrights. Dr. Paulette Marty, professor of theatre at Appalachian, is the director of "Silence," with scenic and lighting design by Professor Mike Helms and costume and make-up design by Professor Sue Williams. Fight choreography is staged by department alumnus Jake Dailey '15. When asked to describe the play in one word, Marty stated, "Fierce… I think that every character becomes fierce over the course of this play, just in different ways. Fierce doesn't just mean violent, it also means zealous, assertive and committed."
Although the play is set one thousand years ago, the characters speak in contemporary language and have sensibilities similar to modern personalities. "Like these characters, many people today don't feel comfortable within the confines our society places upon them," says Marty. She hopes "Silence" inspires audiences to walk away feeling "empowered to be fierce as they fight for the ability to be who they truly are."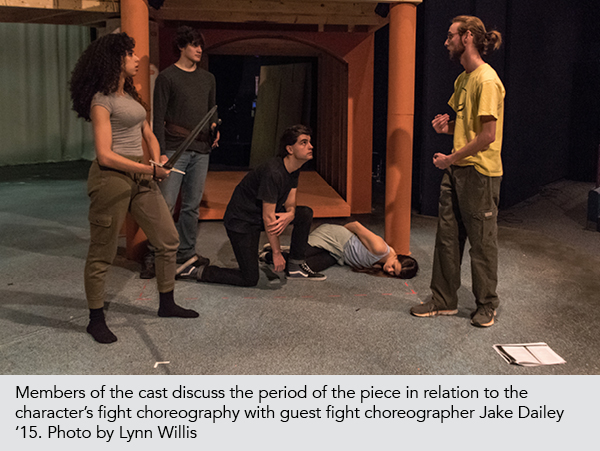 Lauren Pavlacka, a senior general theatre and psychology double major from High Point, plays the role of Silence in the upcoming production. "The character I am playing, and every single role in the play, has a quality to which any audience member can relate," says Pavlacka. "There is an overall fight for ownership and autonomy over ourselves and our destiny, as well as a fight against the boxes into which we're put. That is a strong theme woven throughout play."
The core cast is rounded out by theatre arts majors Alexxa Guerrero of Middleton, NY, who plays Princess Ymma, Ian Lawrence of Raleigh who plays Eadric and Aaron Scotch of Carthage who plays King Ethelred.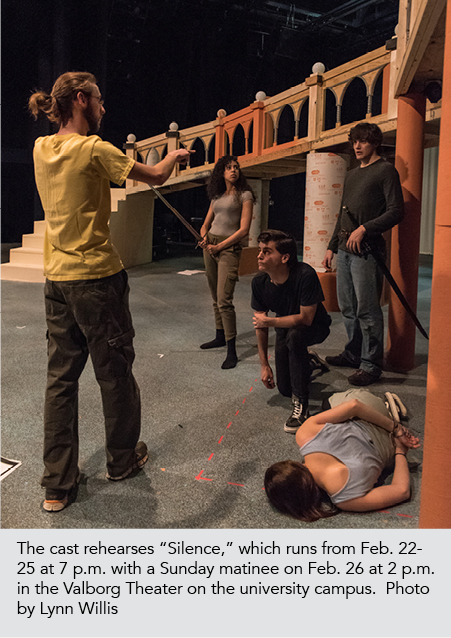 The production team and cast of this show also had the unique opportunity to conduct primary research on the "world of the play," according to Marty. In the summer of 2016, Marty, along with costume and prop designers, stage manager, dramaturg and five of the cast members participated in a departmental study abroad trip to Europe with a number of other theatre students. While in England, they all researched Viking/Anglo-Saxon history and culture at museums and historic sites. As a result of this "treasure trove of research," Marty says, "the 'Silence' cast and production team have an exceptionally strong, research-informed understanding of the world of the play."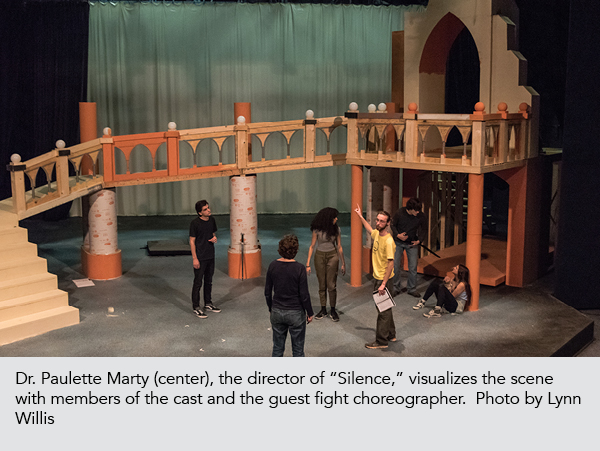 "It was incredible to be in a place where we had so much access to research," said Pavlacka while recalling her trip to Europe. "The experience gave us a lot of visuals. For instance, we visited an ancient borough where we stood in a wide, open field. It was dusk, creepy and eerie. There are scenes where the characters travel to places like that, places where I've been, and that has added an amazing visual element." To learn more about the historical context of the show, visit the production dramaturg's website at http://tonsorje.wixsite.com/silencedramaturgy.
For more information, call the Schaefer Center box office toll-free at 800-841-ARTS (2787) or the Valborg Theater box office at 828-262-3063.
DISCLAIMER: Due to violence and sexual situations, this play is appropriate for mature audiences only.
Media Contact
Keith Martin
828-262-8179
MartinKT1@appstate.edu
About the Department of Theatre and Dance
The Department of Theatre and Dance is one of seven departments housed in Appalachian's College of Fine and Applied Arts. Its mission is to facilitate transformative experiences for students and the public, which cultivate compassionate, creative and collaborative communities through theatre and dance. The department also offers coursework for integrated learning through the arts to the general university student population. Its dynamic co-curricular production program provides exemplary theatre and dance experiences to departmental students, the university community and the region.
About AppalachianAppalachian State University, in North Carolina's Blue Ridge Mountains, prepares students to lead purposeful lives as global citizens who understand and engage their responsibilities in creating a sustainable future for all. The transformational Appalachian experience promotes a spirit of inclusion that brings people together in inspiring ways to acquire and create knowledge, to grow holistically, to act with passion and determination, and embrace diversity and difference. As one of 17 campuses in the University of North Carolina system, Appalachian enrolls about 18,000 students, has a low student-to-faculty ratio and offers more than 150 undergraduate and graduate majors.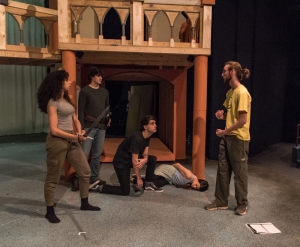 Tags: