The newly formed Appalachian State University Sculpture Club, led by student, Mandy Bass, is the quintessential representation of the College of Fine and Applied Arts. They have grit. They have determination. They have tenacity. The club aimed to construct a cupola, an iron-melting furnace to compete in the National Conference on Contemporary Cast Iron Art and Practice (NCCCAIP). This was not something that they had done, practiced, learned, or had been instructed to do. They enlisted the help of Full-time lecturer, Joe Bigley, to take on this challenge, gather the necessary materials, and haul it close to 500 miles, across 3 states to the NCCCAIP for their first shot at the competition.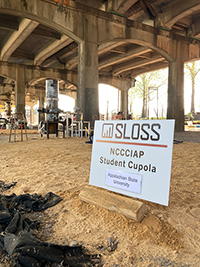 As a club, Appalachian State University received the School Spirit Award, a national award that recognizes "the team with the most support from their university, colleagues, and instructors." Mandy Bass, president of the Sculpture Club, was awarded the Erik Johnson Award which was named after a prominent artist from Sloss Furnace's past. She demonstrated hard work and enthusiasm for the cast iron process, embodying the spirit of Sloss, which inspired others. The award includes a conference scholarship, a metal art workshop, and a $250 materials honorarium (Bigley, J., 2023). Mandy was chosen as the recipient among 60 students and 7 schools competing. Her dedication, sticktoitiveness, and construction demeanor are some of the qualities that were acknowledged.
The club itself has 9 students who came together to share their passion for metal arts. As a team, they solicited funds from donors to be able to attend the conference and build the cupola. The conference was approximately a week long and included panels, instruction, and a competition. Mandy Bass is a double major, B.F.A. in studio sculpture and art management, and a minor in non-profit management. She has completed internships with the Watauga Arts Council, Blowing Rock Art and History Museum, and the Western North Carolina Sculpture Center.
We are so proud of our students for this impressive achievement!
About the Department of Art
One of seven departments housed in the College of Fine and Applied Arts, the Department of Art at Appalachian State University prepares students to explore art, identity, expression and creative problem-solving while challenging them to go beyond their previous limits by discovering new connections to culture. The department offers degrees in art and visual culture, art education, graphic design, studio art, commercial photography and graphic communications management, with minors in art history, studio art, commercial photography and graphic arts and imaging technology.
About the College of Fine and Applied Arts
Appalachian State University's College of Fine and Applied Arts is a dynamic and innovative group of seven academic departments, bringing together a variety of perspectives, experiences, and real-world education to provide unique opportunities for student success. The college has more than 3,000 undergraduate and graduate majors. Its departments are Applied Design, Art, Communication, Military Science and Leadership, Sustainable Development, Sustainable Technology and the Built Environment, and Theatre and Dance.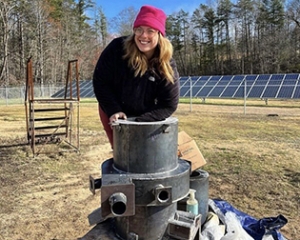 Tags: