More than twenty students and recent graduates came together at the Beasley Media Complex on Appalachian's campus Tuesday, May 31 to kick off the rigorous, 10-day workshop, training and networking event hosted by the Department of Communication and the College of Fine and Applied Arts. This year marks the 10th year of the event, which is managed by Kellar Radio Talent Institute Director Dan Vallie Hill.
During the institute, admitted students will learn all aspects of radio—including production, sales and marketing, on-air programming, copywriting, musical selection and more—from some of the best industry professionals and experts in the field.
Beasley Media Group President and CEO Bruce Beasley, along with Executive Vice President and Chief Financial Officer Caroline Beasley, opened a dialog with students about the direction of radio during the initial workshop.
"We need to be where our listeners are," said Bruce Beasley, adding that social, mobile and digital trends are changing the way radio stations do business. The pair also spoke with students about thinking and acting like a pro in radio, covering the topics of professionalism, listening skills and more.
The institute runs from May 31–June 9 and will include presentations by notable alumni Jonathon Mauney of Greater Media Charlotte, Doug Rice of Performance Racing Network, Pam Patton and Ashley Wilson of Beasley Media Fayetteville, Brandon Dickson of the NC News Network and WPTF, and Christian Morgan and Chris Kelly of Dick Broadcasting Network.
The Kellar Radio Talent Institute at Appalachian State University is the brainchild of Dan Vallie Hill and is the first and oldest of its kind. He developed the institute to give students an innovative educational experience not available anywhere else. Each year, he invites industry experts at the top of their fields to mentor aspiring talent during the immersive, 10-day event. There are now four other Radio Talent Institutes following Hill's model at universities across the country.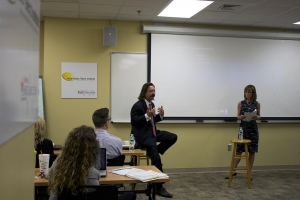 Tags: