A number of communication faculty members traveled to and presented research at the Association for Education in Journalism and Mass Communication (AEJMC) Conference August 4-9 in Minneapolis, Minnesota. Faculty members who attended the conference included Assistant Professor Newly Paul, PhD; Assistant Professor Gregory Perreault, PhD; Assistant Professor Shan Shan Lou, PhD; Senior Lecturer Heather P. Preston; Lecturer Juixange (Ashley) Han, PhD; Instructor Mimi Perreault, PhD and Assistant Professor and new hire Matthew Van Dyke, PhD. All participated in conference workshops in addition to their presentations throughout the week.
Greg Perreault and his former student Malik Rahili presented a paper on gaming journalism, "Repairing the gamer community: Paradigm repair in early gaming magazines 'Nintendo Power' and 'Sega Visions'." Perreault was also a member of a team that analyzed memes about Pope Francis titled "Politicians, photographers, and a pope: How state-controlled and independent media covered Francis's 2015 Cuba visit."
Paul presented a poster session, "Look who's writing: How gender affects news credibility and perceptions of issue importance," a paper, "Racial diversity in news: How journalist, officeholder and audience intersect to affect racialized issue coverage," and a second paper, "Racial congruence effect in candidate coverage: How race affects news coverage of in- and out-group candidates."
Lou presented her paper "The third-person effect of offensive advertisements: An examination in the Chinese cultural context."

Mimi Perreault presented a as part of the panel "Fostering community disaster resilience: The role of vournalism and media" (http://ivoh.org/community-resilience-researchers-share-work-aejmc-conference/) and a poster, "How journalists characterize health inequalities and redefine solutions for Native American audiences."
Van Dyke, a new hire who recently finished his PhD at Texas Tech University, presented his work "Visualizing science: Representing data ethically and effectively."
Preston, Paul and Mimi Perreault were honored at the pre-conference session for the Kopenhaver Center "Empowering Junior Faculty: Pathways to Success in the Academy." The session included junior female faculty in journalism and mass communication from universities all over the United States. Preston, Perreault and Paul, along with alum Jennifer Brannock Cox, were named Kopenhaver Center Fellows.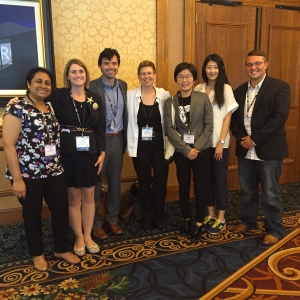 Tags: