A vocalist by trade, theatre performance major Roy Dale Cox has been performing in musicals since age 13. Cox started singing a child, first in his church choir and eventually winning "The Gift" inspirational singing competition, presented by McDonalds, in 2009. He was bitten by the acting bug while performing in "13" the musical.
An Alabama native, he attended the highly competitive Shades Valley Theatre Academy in Birmingham for high school and chose to continue his studies at Appalachian because of its sense of community.
"When I was touring and researching schools, I wanted to find a place where art is not only a part of the school and the Theatre Department, but a part of the local community. I also knew that at App, I would be challenged not only as a person, but as a performer as well."
While a student, Cox has performed in several productions, including "Avenue Q" and "Sweeney Todd: The Demon Barber of Fleet Street." He was also chosen to perform a song for Tony-Award winning performer Beth Leavel, who conducted a master class at Appalachian in Spring 2018.
One of Cox's most memorable experiences has been participating in the department's study away trip offered each semester. During these week-long trips, students stay at the university's New York Loft in midtown Manhattan, attend Broadway performances, tour backstage areas at Radio City Music Hall, the Lincoln Center and other uniquely New York venues, meet with cast members and Appalachian alumni working in the field and even get audition tips from casting directors and producers.
"It was an amazing opportunity. We were able to network with agents, casting directors and meet with people who have done this. They talked to us about what we want to do and what we should be doing right now to do what they're doing in the field."
His advice to prospective students?
"Never think your dreams are too big. I know I'm in the right place – the faculty see something in me and are helping me realize my dreams."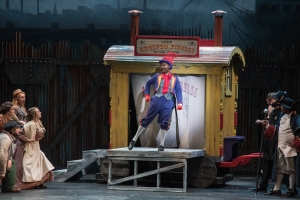 Tags: