The Appalachian Musical Theatre Club (AMTC), a student organization affiliated with the Department of Theatre and Dance at Appalachian State University, will present "Miscast" on March 30 at 7 p.m. and March 31 at 5 p.m. in the I. G. Greer Studio Theatre. Doors will open 20 minutes before the show starts and admission is free, though donations are welcome.
Every performer has a list of dream roles that they one day hope to fill. However, due to casting restrictions like race, gender, age, or body type, these often remain fantasies. "Miscast" offers performers the chance to turn those dreams into reality. Stereotypes and societal norms are put aside in this annual variety show where actors perform their dream songs from musicals, regardless of their "fit" for the part. Genders are swapped, looks are ignored and the sky is the limit.
"It really highlights the diverse talent that we have on this campus and in the Department of Theatre and Dance," said AMTC President Jordan Glyder, a junior American politics major from Mount Pleasant, SC. "It's pretty easy to play a role or character that fits the actor perfectly, but breaking out of that shell and throwing expectations out the window creates really fun and impressive theatre."
Audiences can come to the show expecting to laugh. "One of the best things about Miscast is how comedic the acts can be," remarked Glyder.
She insists that this year's performance will be no different. Her most anticipated act? A male cast member from AMTC's fall 2018 production of "Cabaret" performing the all-female number "Don't Tell Mama."
This year's production of "Miscast," hosted by senior theatre education major Hannah Daniels from Hendersonville, also includes numbers from hit shows such as "Hamilton," "Wicked," "High School Musical," and more. It is directed by junior international business major Jonathan Long from Davidson and will feature choreography by freshman communication sciences and disorders/dance studies major Cassie Miller from Lexington.
While there is no charge to attend "Miscast," donations to AMTC are appreciated. Any donations received at the performances will go towards the club's upcoming full-length production of "Mamma Mia," a musical based on the hits of the '70s pop group ABBA, to be presented in the fall.
by Glenn Ramey
About the Department of Theatre and Dance
The Department of Theatre and Dance is one of seven departments housed in Appalachian's College of Fine and Applied Arts. Its mission is to facilitate transformative experiences for students and the public, which cultivate compassionate, creative and collaborative communities through theatre and dance. The department also offers coursework for integrated learning through the arts to the general university student population. Its dynamic co-curricular production program provides exemplary theatre and dance experiences to departmental students, the university community and the region.
About Appalachian State University
Appalachian State University, in North Carolina's Blue Ridge Mountains, prepares students to lead purposeful lives as global citizens who understand and engage their responsibilities in creating a sustainable future for all. The transformational Appalachian experience promotes a spirit of inclusion that brings people together in inspiring ways to acquire and create knowledge, to grow holistically, to act with passion and determination, and embrace diversity and difference. As one of 17 campuses in the University of North Carolina system, Appalachian enrolls about 19,000 students, has a low student-to-faculty ratio and offers more than 150 undergraduate and graduate majors.
###
Media Contact:
Parker Hallman
hallmanpm@appstate.edu
704-651-7560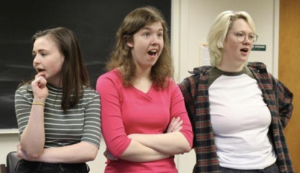 Tags: