Chad and Kelly Seigler didn't come to Appalachian State University looking for love. Both were driven students interested in exploring the communications field, and that's where the similarities ended.
Chad Seigler visited the university while in high school and immediately felt right at home. "I visited campus for a football game my junior year and immediately fell in love," he recalled. "My first trip consisted of walking campus, going to a football game and eating at Woodlands BBQ."
Kelly Seigler wasn't immediately taken with Appalachian – she had plans to transfer to a larger in-state school – but once classes started, she knew Appalachian was exactly where she wanted to be. "It felt right sitting in class," she said. "The professors knew me and cared – they wanted to see all students succeed."
Although the two were following the electronic media and broadcasting concentration within the Communication Department and even shared a few classes, they didn't meet until their junior year, when they participated in a "communications tour" of several television and radio stations, advertising agencies and a record label in Charlotte.
"We were at WBTV and he came and sat down next to me," Kelly Seigler said. "It's so funny that we officially met at the station since I ended up working in that very building years later."
They started dating shortly after, and got married in 1998. Now well into their careers (he's the vice president of business development at NASCAR and she's a pharmaceutical sales representative at Merck), the two are choosing to give back to the school where it all started. They recently supported the Department of Communication by naming a studio in the Beasley Media Complex.
"I really enjoyed my time at WASU [the student-run radio station], and Appalachian holds a special place in our hearts," said Chad Seigler. "It's not only where we met but where we matured into adults. For us we feel strongly about giving back to a place that has meant so much to us and made our life today possible."
Kelly Seigler agrees. "In the communications field, it's crucial that students have access to the most updated technology," she said. "Anything we can do to help set students up for success is a good feeling."
The Seiglers have passed on their love of Appalachian to their family as well. "We come up to the area regularly and bring our children (Jackson, 13 and Maitlain, 10), often for games," said Kelly Seigler.
"We share the tradition of going to home football games and eating at Woodlands BBQ, just as I did on my first visit to campus," Chad Seigler continued. "There is just something very special about Boone and App that never leaves you."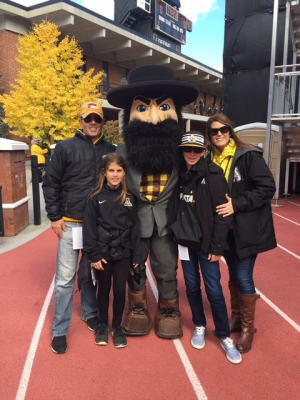 Tags: