By: Nancye Edwards
The Appalachian State University Department of Theatre and Dance will host a day of theatre workshops, culminating with a live performance, for high school students and teachers to celebrate Theatre in Our Schools (TIOS), a month-long national event beginning in March. The workshops will take place Feb. 25 from 11:30 a.m.–9:00 p.m. in Chapell Wilson Hall on Appalachian's campus. A $5 fee is due upon registration.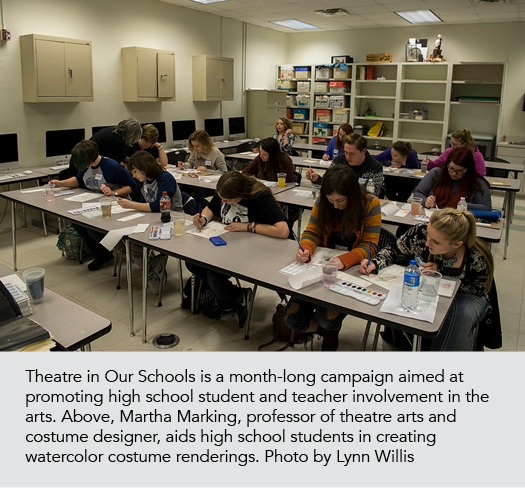 This year's Theatre in Our Schools: A Day of Theatre Workshops features 12 workshops, open to students in grades 9–12 and to private and public school teachers, with topics ranging from instruction in dialect to stage combat. Along with the workshops, high school students and teachers will attend a live performance of "Silence," Appalachian's first main stage production of the 2017 spring season.
Gordon Hensley, professor of theatre education, is the coordinator of the event. Hensley graduated in 1998 with a bachelor's in theatre education and subsequently obtained a MFA in theatre and education from Arizona State University.
"Our TIOS day is like no other program I've seen before," he said. "It has the feel of a one-day theatre festival; high school students and teachers love it."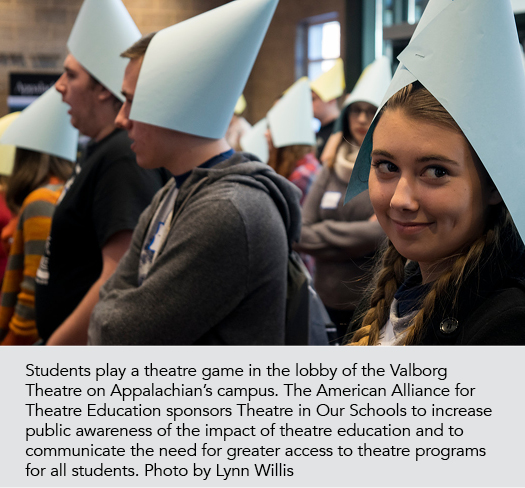 Eight department faculty will assist Hensley with the event by leading the workshops: Marianne Adams, professor of dance studies, Trimella Chaney, adjunct faculty of theatre arts/theatre education, Dr. Derek Davidson, senior lecturer of theatre/playwriting, Derek Gagnier, associate professor of theatre/performance, Teresa Lee, professor of theatre arts, Martha Marking, professor of theatre arts/design, John Marty, associate professor of theatre arts/design and Dr. Paulette Marty, professor of theatre arts/history.
The American Alliance for Theatre & Education (AATE) created the Theatre in Our Schools campaign to increase public awareness of the impact of theatre education and to communicate the need for greater access to theatre programs for all students. March is recognized as the official month for TIOS, with events and celebrations taking place in communities and schools nationwide. TIOS month features performances, classroom activities, student playwriting and video contests and regional conferences.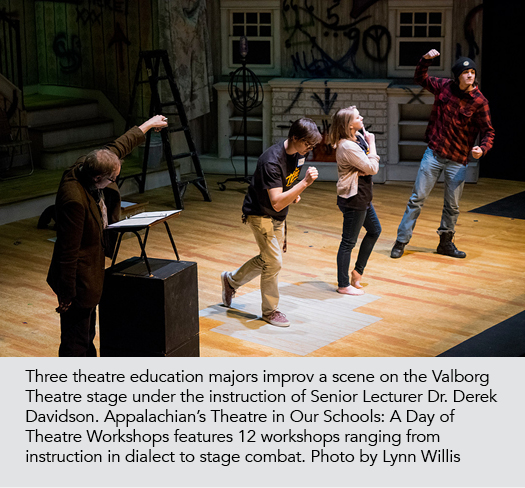 During the event, an adult must accompany all students under the age of 21. The workshops can be recognized as professional development, and continuing education unit credit (CEU) may be available with prior approval from a local education agency. For more information on Appalachian's Theatre in Our Schools: Day of Theatre Workshops, visit theatreandance.appstate.edu or contact Gordon Hensley at hensleyg@appstate.edu.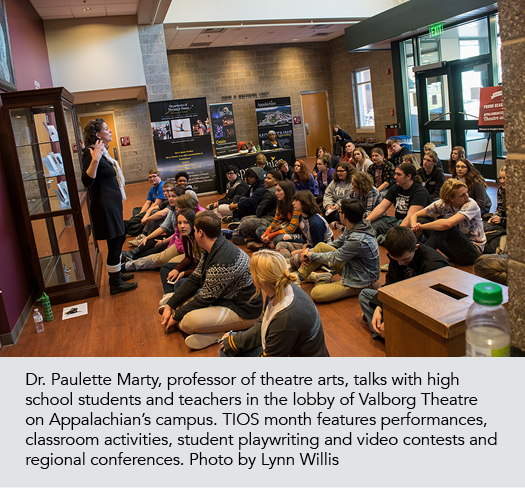 Media Contact
Keith Martin
828-262-8179
martinkt1@appstate.edu
About the Department of Theatre and Dance
The Department of Theatre and Dance is one of seven departments housed in Appalachian's College of Fine and Applied Arts. Its mission is to facilitate transformative experiences for students and the public, which cultivate compassionate, creative and collaborative communities through theatre and dance. The department also offers coursework for integrated learning through the arts to the general university student population. Its dynamic co-curricular production program provides exemplary theatre and dance experiences to departmental students, the university community and the region.
About Appalachian
Appalachian State University, in North Carolina's Blue Ridge Mountains, prepares students to lead purposeful lives as global citizens who understand and engage their responsibilities in creating a sustainable future for all. The transformational Appalachian experience promotes a spirit of inclusion that brings people together in inspiring ways to acquire and create knowledge, to grow holistically, to act with passion and determination, and embrace diversity and difference. As one of 17 campuses in the University of North Carolina system, Appalachian enrolls about 18,000 students, has a low student-to-faculty ratio and offers more than 150 undergraduate and graduate majors.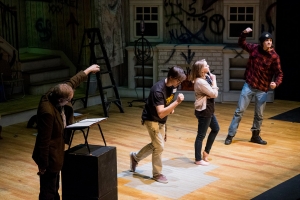 Tags: