Appalachian State University's first-ever Steamroller Print Fest is happening Friday, Oct. 5 at the Turchin Center for the Visual Arts. Scott Ludwig, professor in the Department of Art, is the man behind the new event.
"This is designed to be a fun, community-oriented event and will feature large, collaborative woodblocks carved by students in my Relief Printmaking class this semester. After the blocks are rolled up with ink, they will be printed by literally driving over the block with a steamroller or pavement roller," Ludwig said.
The steamroller prints are not the only things happening at the event. Attendees will see a variety of printmaking booths, including a booth designed for children, and printmaking for t-shirts and posters.
Many items will be for sale to benefit the Art Department's Print Club. There will also be raffles to win prizes, as well as music and food.
"The event is so exciting becase it's about revealing the mystery of printmaking and showing how it's made, in unique, accessible and even dramatic ways, such as using a pavement roller to make a print," Ludwig explained. "In essence, we'll be shedding light on what printmakers do. So, come on out and discover prints!"
For more information, visit https://tcva.appstate.edu/calendar/super/id/2261.
by Caroline Lubinsky
About the Department of Art
One of seven departments housed in the College of Fine and Applied Arts, the Department of Art at Appalachian State University prepares students to explore art, identity, expression and creative problem-solving while challenging them to go beyond their previous limits by discovering new connections to culture. The department offers degrees in art and visual culture, art education, graphic design, studio art, commercial photography and graphic arts and imaging technology, with minors in art history, studio art, commercial photography and graphic arts and imaging technology.
About Appalachian State University
Appalachian State University, in North Carolina's Blue Ridge Mountains, prepares students to lead purposeful lives as global citizens who understand and engage their responsibilities in creating a sustainable future for all. The transformational Appalachian experience promotes a spirit of inclusion that brings people together in inspiring ways to acquire and create knowledge, to grow holistically, to act with passion and determination, and embrace diversity and difference. As one of 17 campuses in the University of North Carolina system, Appalachian enrolls about 19,000 students, has a low student-to-faculty ratio and offers more than 150 undergraduate and graduate majors.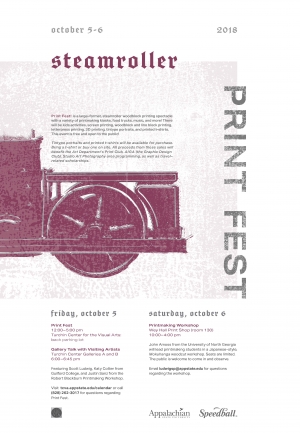 Tags: