By Jennie Carlisle
Appalachian State University's Smith Gallery and Turchin Center for the Visual Arts present the Faculty Biennial exhibition featuring outstanding work from Department of Art faculty. Works will be on display at the Smith Gallery through March 23 and on view at the Turchin Center through May 5. All events are free and open to the public.
Presented every other year to highlight new art and creative inquiry by current faculty, the show allows students, teachers and the community of Boone to connect with the faculty as artists. Faculty from all divisions of the art department have created works in various media, including painting, sculpture, drawing, photography,new media projects, fabric installations, participatory experiences and performance.
In addition to the works installed at the galleries, this year's biennial features two public art projects. The first, created by Yi-Chen Chang, is a set of cut form vinyl stickers featuring illustrated canines representing different months of the year installed along the pathways between the Smith and the Turchin. The second is a set of melting ice sculptures exploring concepts of memory and loss created by Martin Church, which will occasionally appear in the trees outside of the Smith Gallery.
"The exhibition is a great opportunity for the public to see cutting edge projects engaging in an enormously diverse range of important contemporary issues, from notions of domesticity, family life and maternal bonds, to questions of cultural representation and our participation in social politics, to the legacy of artistic formalism, and beyond," said Jennie Carlisle, director of the Smith Gallery. "It's so great and necessary for art students to see what their professors do outside of the classroom."
The exhibition features work by faculty Adam Adcock, Catherine Altice, Gregory Banks, Joshua Bricker, Laken Bridges, Andrew Caldwell, Yi-Chen Chang, Martin Church, Andrea Connell, Rosa Dargan-Powers, Travis Donovan, Erin Ethridge, April Flanders, Frankie Flood, Tim Ford, Mike Grady, Vicky Grube, Brooke Hofsess, Jeana Klein, Hui Chi Lee, Taekyeom Lee, Scott Ludwig, Clifton Meador, Maurice Meilleur, Edison Midgett, Gary Nemcosky, Lileth Nielander, Mark Nystrom, Katrina Plato, Richard Prisco, IlaSahai Prouty, Sara Rich, Jody Servon, John Stephenson, Lisa Stinson, Nicholas Sorlien, Jim Toub, Tricia Treacy, Joshua White, Chip Williams, and Cheryl Zibisky.
The Faculty Biennial will feature artist talks from 11-12 p.m. on March 15 at the Smith Gallery and on March 27 at the Turchin Center. Carolyn Grotsch, curator of exhibitions at Western Carolina University, will speak at the Turchin Center Lecture Hall on Wednesday March 21 at 6 p.m. as well.
About the Smith Gallery
The Smith Gallery is a vibrant contemporary art space, housed in the Schaefer Center for the Performing Arts. It presents original and travelling exhibitions, features work by faculty and students at the university, and commissions daring new art in all of its forms. The gallery is open Monday through Friday from 10 AM to 5 PM and during special events scheduled at the Schaefer Center for the Performing Arts, 731 Rivers Street, Boone, NC 28608. Admission is FREE.
About the Turchin Center for the Visual Arts
The Turchin Center for the Visual Arts presents exhibition, education and collectionprograms that support Appalachian State University's role as a key regional educational, culturaland economic resources. TCVA is located at 423 West King St., inBoone. Hoursare 10a.m.-6p.m., Tues.- Thurs. and Saturday, and Noon-8 p.m.,Friday.The Center is closed SundayandMonday, and observes all universityholidays. There is no admission charge, althoughdonations are gratefully accepted. For additional details about the TurchinCenter,becominga donor, the upcoming exhibitions, to be added to the mailing list or to schedule atour, pleasecall (828) 262-3017 or visit www.tcva.org.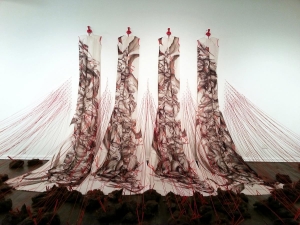 Tags: