Two students in Appalachian State University's Department of Communication have obtained work thanks to a trip to a national networking event arranged by their professors.
Logan DiFranco, a communication, public relations junior from Cary, and Jean-Luc Clark, a communication, advertising senior from Winston-Salem, were offered highly competitive positions after attending the Multicultural Talent Pipeline event hosted by Publicis Media in Atlanta.
Assistant professors Dr. Shanshan Lou and Dr. Jiangxue (Ashley) Han organized the trip in October 2018. This is the second time Lou has taken students to this event.
After three rounds of interviews, DiFranco was offered a paid internship during summer of 2019 at Spark Foundry, an ad agency owned by Publicis. Clark was offered a full-time position at Blue 449 Seattle after he graduates in May.
DiFranco credits Appalachian with her success and many opportunities.
"The courses I have taken over the last three years, specifically Mass Media in Society, Minorities in Media, Principles of PR and Intro to Journalism, have shown me all that communication is. These courses have taught me that there is so much to learn about the field, and that I should take the time to explore it."
She was also thrilled for the opportunity to attend the event and the networking opportunities it provided.
"The best part of the conference was seeing the number of people of multicultural backgrounds represented through Publicis, and in their Atlanta office," DiFranco explained. "Overall, I am just excited to learn about what I could be doing in the future."
The students were not the only ones in the spotlight during the conference. Dr. Shanshan Lou was interviewed by Publicis Media about diversity and inclusion and she shared her opinion on how to bridge the gap between academia and industry.
By Caroline Lubinsky
About the Department of Communication
One of seven departments housed in the College of Fine and Applied Arts, the Department of Communication at Appalachian State University focuses on preparing students to succeed in the varied fields within the communication industry. The department offers five majors – advertising, communication studies, electronic media/broadcasting, journalism and public relations – and a minor in communication studies. Graduates work in a wide range of positions in media, corporate, agency, government and nonprofit organizations.
About Appalachian State University
Appalachian State University, in North Carolina's Blue Ridge Mountains, prepares students to lead purposeful lives as global citizens who understand and engage their responsibilities in creating a sustainable future for all. The transformational Appalachian experience promotes a spirit of inclusion that brings people together in inspiring ways to acquire and create knowledge, to grow holistically, to act with passion and determination, and embrace diversity and difference. As one of 17 campuses in the University of North Carolina system, Appalachian enrolls about 19,000 students, has a low student-to-faculty ratio and offers more than 150 undergraduate and graduate majors.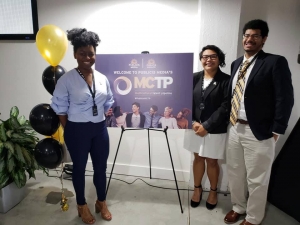 Tags: