Alpha Psi Omega (APO), the student-led theatre honor society associated with the Department of Theatre and Dance at Appalachian State University, will present "The Chemistry of Change," a play by Marlane Meyer, at 7 p.m. on April 4 – 6 with a 2 p.m. matinee on April 6.
The play will be presented in the I. G. Greer Studio Theatre on the university's campus. Tickets are $7 for students and faculty and $10 for adults. Proceeds from the show will go to a local Boone nonprofit, The Children's Playhouse.
"The Chemistry of Change" is set in the 1950s and gives viewers insight into the dysfunctional family of matriarch Lee, who shares a home with her grown children and sister. Their lives get turned upside down when a very unlikely hero, the devil, sets up a series of events that shows it's never too late to find what you're looking for in life – and that love is what makes change possible.
"I immediately appreciated the uniqueness and quirky elements of the show," stated director Joseph Perdue, a junior theatre education major from Greensboro. "It has been an interesting challenge to work with these unusual elements. But we've done a great job of creating these strong, real characters that the audience should feel they can understand and relate to."
Playwright Marlane Meyer has had works produced in venues all over the world, including the Royal Court Theatre in London, South Coast Repertory, the Los Angeles Actors' Theater, and many others. Meyer has collected numerous awards such as the Susan Smith Blackburn Prize, the Joseph Kesselring Award and the Pen Center USA Award for Drama.
Proceeds from Alpha Psi Omega's production of the play will go to The Children's Playhouse, a nonprofit located in Boone. The mission of The Children's Playhouse is to provide infants and young children with an enriching play environment while providing their parents and caregivers with support. More information about the organization can be found on their website, https://goplayhouse.org.
By Glenn Ramey
About the Department of Theatre and Dance
The Department of Theatre and Dance is one of seven departments housed in Appalachian's College of Fine and Applied Arts. Its mission is to facilitate transformative experiences for students and the public, which cultivate compassionate, creative and collaborative communities through theatre and dance. The department also offers coursework for integrated learning through the arts to the general university student population. Its dynamic co-curricular production program provides exemplary theatre and dance experiences to departmental students, the university community and the region.
About Appalachian State University
Appalachian State University, in North Carolina's Blue Ridge Mountains, prepares students to lead purposeful lives as global citizens who understand and engage their responsibilities in creating a sustainable future for all. The transformational Appalachian experience promotes a spirit of inclusion that brings people together in inspiring ways to acquire and create knowledge, to grow holistically, to act with passion and determination, and embrace diversity and difference. As one of 17 campuses in the University of North Carolina system, Appalachian enrolls about 19,000 students, has a low student-to-faculty ratio and offers more than 150 undergraduate and graduate majors.
###
Media Contact:
Joseph Perdue
perdueje@appstate.edu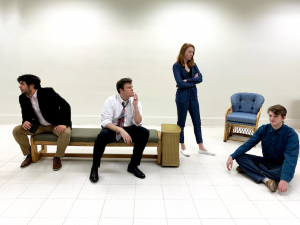 Tags: