Dylan Brown, a 2017 Theater Performance graduate from Appalachian State University's Department of Theatre and Dance, has completed more than 50 audiobook recordings in the year he has lived in New York City and worked as an audiobook producer for Audible.
"My dream job from eighth grade moving forward was to be an audiobook narrator during the day and then to do theater at night," he said.
In the short time Brown has lived in NYC, he has already achieved this goal. He said his favorite characters were the voices of multiple middle schoolers and a talking fox for the book "My Fox Ate My Homework" by David Blaze.
In addition to recording audiobooks spanning from non-fictional business portfolios to science fiction stories, Brown is participating in the new musical theater production "All Star." He said that the show is unlike any production he has ever been a part of, including the ones he participated in at Appalachian.
"Every song is 'All Star' by Smash Mouth, but it is just arranged differently," Brown said. "Sometimes it is a huge choral ballad, and sometimes it's a country-western song."
He says his classes at Appalachian taught him the truthfulness and authenticity that are vital to how he approaches each audiobook or theater character, and his experiences helped make him a viable candidate for contracts and networking opportunities.
"A lot of what I learned about theater, acting and life in general, so much of it is rooted in Boone and my time at school there," said Brown.
For access to Brown's Audible recordings, visit audible.com.
By Rachel Greenland
About the Department of Theatre and Dance
The Department of Theatre and Dance is one of seven departments housed in Appalachian's College of Fine and Applied Arts. Its mission is to facilitate transformative experiences for students and the public, which cultivate compassionate, creative and collaborative communities through theatre and dance. The department also offers coursework for integrated learning through the arts to the general university student population. Its dynamic co-curricular production program provides exemplary theatre and dance experiences to departmental students, the university community and the region.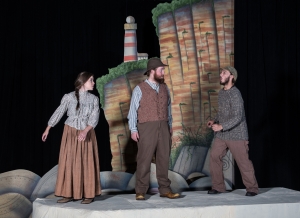 Tags: