Appalachian State University's Department of Communication is home to a variety of media organizations designed to provide current students with hands-on, industry experience supplementing their coursework. The Appalachian Student News Organization, WASU-FM radio and AppTV are preparing students for real-world success while offering opportunities for success and recognition beyond the High Country.
In early February, two electronic media / broadcasting seniors in Dr. Dan Walsh's fall 2018 Scriptwriting class were recognized by the international Broadcast Educators Association (BEA) for their pilot scripts. Murilo Artese won third place for his script, "The Host Family," and Grace King received the Award of Excellence for her script, "Accepted." Three recent graduates and one senior who were enrolled in Dr. Kelly Davis's fall 2018 Advanced Video Production class — Nicole Brice '18, Maleek Loyd '18, Emmitt Carden '18 and electronic media / broadcasting senior Madison Bloom — were also recognized for their short film "The Flat Affect." This is the third year in a row students from Davis's class have been recognized at the BEA awards.
Davis shared that he was struck by his students' commitment to creating something of quality, rather than just completing the assignment.
"They showed ambition to make something exceptional," he shared. "That's the mark of an artist and it will serve them well in their careers."
Both Walsh and Davis are associate professors in the university's Department of Communication. The students will officially receive their awards at the BEA's annual conference in Las Vegas April 6-9.
On February 23, eight student reporters for The Appalachian were honored at the North Carolina College Media Association's annual conference in Greensboro for their work. Journalism sophomore Moss Brennan, journalism senior Brooks Maynard, sustainable development junior Hayley Canal, graphic arts and imaging technology junior Lindsay Vaughn and journalism senior Nora Smith won first place in the Digital Storytelling category. Smith was also awarded first place in the Single- or Two-Page Design category, along with commercial photography sophomore Efrain Arias-Medina, who won third place. Journalism senior Savannah Nguyen and graphic arts and imaging technology senior Jarrett Carlson received honorable mentions in the Feature Writing and Cartoon categories, respectively. The news organization was recognized in Best of Show for both "Online News" and "Print Newspaper" categories as well.
"Considering it's my first year on The Appalachian, this award means a lot." Arias-Medina, graphics editor for the newspaper explained." I came from a high school where we would win top awards every year for yearbook so I'm really happy to be able to continue the streak in college."
The Appalachian was also honored at the national College Media Association convention March 6-9 in New York City. It's weekly news program won second place for Best Newscast, while the team took third place for Best Original Ad Design. Smith was again honored with a first-place win in the Copyediting category.
On February 27, Dr. Ozzie Ostwalt, professor of religious studies at Appalachian, was honored with the 2019 Religions Communications Council Wilbur Award for a fall 2018 "Religion in Life" episode featuring his interview with Rev. Jesse Jackson. Ostwalt hosts the show, which is produced weekly by electronic media/broadcasting senior Kelly Hunter, on the student-staffed AppTV. Ostwalt will accept the award at the70th Annual Wilbur Awards Banquet on April 12 in Chicago.
During the weekend of March 1-3 at the annual Intercollegiate Broadcasting System conference, both AppTV and WASU, the university's student-run radio station, also brought home awards. AppTV was honored for Best Use of Graphics, while WASU's Dovydas Abarius, a senior electronic media / broadcasting student, won for Best Underwriting Spot and Lizzy Micyus, a senior advertising major, a won for Best Social Media – Spotify Playlist. AppTV was a finalist in three other categories — Best Video Newscast, Best Video Comedy Program and Best TV Station — while WASU was a finalist in five categories: Best Music Director, Best Social Media Director, Best Morning Show, Best Station Playlist and Best Phone App.
Department Chairperson Dr. Janice Pope pleased with the the recent recognition honoring student accomplishments.
"We are so proud of our students who work in student media and their commitment to producing quality content," she shared. "Our students truly get to experience their education in Department of Communication."
About the Department of Communication
One of seven departments housed in the College of Fine and Applied Arts, the Department of Communication at Appalachian State University focuses on preparing students to succeed in the varied fields within the communication industry. The department offers five majors – advertising, communication studies, electronic media/broadcasting, journalism and public relations – and a minor in communication studies. Graduates work in a wide range of positions in media, corporate, agency, government and nonprofit organizations.
About Appalachian State University
Appalachian State University, in North Carolina's Blue Ridge Mountains, prepares students to lead purposeful lives as global citizens who understand and engage their responsibilities in creating a sustainable future for all. The transformational Appalachian experience promotes a spirit of inclusion that brings people together in inspiring ways to acquire and create knowledge, to grow holistically, to act with passion and determination, and embrace diversity and difference. As one of 17 campuses in the University of North Carolina system, Appalachian enrolls about 19,000 students, has a low student-to-faculty ratio and offers more than 150 undergraduate and graduate majors.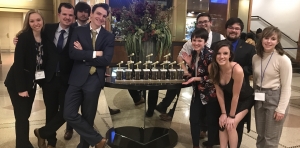 Tags: