Appalachian State University's Playcrafters, a student organization affiliated with the Department of Theatre and Dance, will present their 2019 New Play Festival in the I.G. Greer Studio Theatre with performances at 7 p.m. on March 14, 15 and 16 and a matinee at 2 p.m. on March 16. Tickets are $5 for students and $7 for the general public and will be sold a half-hour prior to each performance.
The 2019 festival, which showcases one-act plays created and produced entirely by Appalachian students, will feature five original works:
"Lunch," written by sophomore theatre performance major Connor Stack from Monroe and directed by junior theatre education major Sam Burnett from Sherrills Ford with assistant director Madelyne Honeycutt, a biological anthropology major from Fuquay Varina.
"Examiner," written by junior theatre design technology major Cameron Drummond from Raleigh and directed by theatre education majors Sophie Zapf, a junior from Southport, and Joshua Watson, a freshman from Concord.
"The Lobster Incident at Dinner Time," written by junior English major Cameron Underwood from Chapel Hill and directed by junior theatre education major Mary Weaver with assistant director Jade Anderson, a freshman English major from Concord.
"Fear," written by junior theatre education major Daniel Herman from Pinehurst and directed by junior theatre education major Tabitha Wallace from Concord with assistant director Allie Pearce, a freshman theatre performance major from Hampstead.
"In Between the Panels," also written by Herman and directed by Underwood with assistant director Hannah Champion, a sophomore general theatre major from Youngsville.
Twenty-one Appalachian students are actors in the 2019 New Play Festival production: Max Babula, Bella Balatow, Ethan Brown, Catherine Denton, Rachel Eakes, Julianna Fowler, Cielo Gomez, Jamie Haney, Shelby Jenrette, Natalie Jones, Sarea Kelly, Leslie Knight, Hannah Magee, Latavia Owens, Laura Pennachi, Kaylee Proctor, Gillian Quigley, Cat Selden, Michelle Taylor, Trevor Telenko, and Natasha Toledo.
Playcrafters is currently accepting student-written one-act plays for next year's festival. Questions regarding eligibility for consideration, as well as original student plays, can be submitted to appstateplaycrafters@gmail.com.
Founded in 1933 by the late Cratis Williams and Rogers Whitener, Playcrafters is one of the oldest student organizations at the university. The student group fosters enthusiasm for theatre by providing opportunities for students of any major to increase their skills through production aspects such as writing, directing, and acting. Along with the New Play Festival, Playcrafters presents the 24-hour Arts Festival in the fall of each year.
The I.G. Greer Studio Theatre is located on east campus underneath I.G. Greer Hall, located at 401 Academy Street in Boone. The theatre entrance is a large red door situated on the northeast side of the building on the lower level. Parking is available after 5 p.m. on campus in faculty/staff lots, and after 5:30 p.m. in the College Street parking deck near Belk Library and Information Commons.
By Glenn Ramey
About the Department of Theatre and Dance
TheDepartment of Theatre and Dance is one of seven departments housed in Appalachian's College of Fine and Applied Arts. Its mission is to facilitate transformative experiences for students and the public, which cultivate compassionate, creative and collaborative communities through theatre and dance. The department also offers coursework for integrated learning through the arts to the general university student population. Its dynamic co-curricular production program provides exemplary theatre and dance experiences to departmental students, the university community and the region.
About Appalachian State University
Appalachian State University, in North Carolina's Blue Ridge Mountains, prepares students to lead purposeful lives as global citizens who understand and engage their responsibilities in creating a sustainable future for all. The transformational Appalachian experience promotes a spirit of inclusion that brings people together in inspiring ways to acquire and create knowledge, to grow holistically, to act with passion and determination, and embrace diversity and difference. As one of 17 campuses in the University of North Carolina system, Appalachian enrolls about 19,000 students, has a low student-to-faculty ratio and offers more than 150 undergraduate and graduate majors.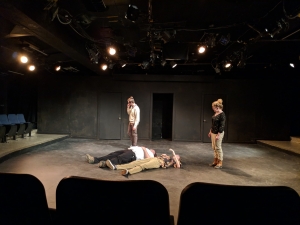 Tags: