Appalachian State University's Department of Theatre and Dance will celebrate the 25th anniversary of its Valborg Theatre by hosting two special events in April. Department alumni are invited back to campus for the first-ever reunion weekend April 11–14, and friends of the department are invited to attend a gala reception and performance of "A Midsummer Night's Dream" on April 13.
The reunion weekend includes an opportunity for alumni to share career insights and more with current undergraduate students, an alumni dinner and open mic night, a picnic at Valle Crucis Park and a gala reception and performance of "A Midsummer Night's Dream," the very first show to be performed in Valborg Theatre in 1994. Friends of the department are also invited to attend the April 13 gala reception and performance on campus.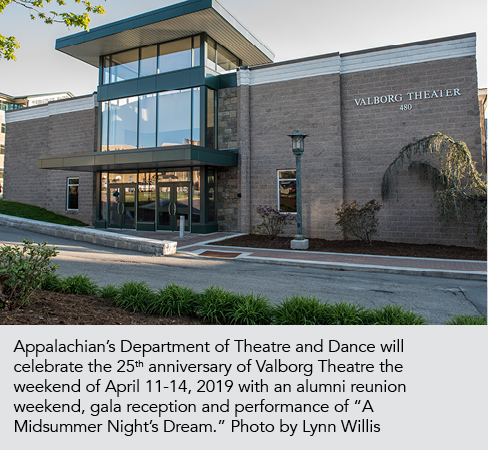 According to faculty emeritus Susan Cole, the state of the theatre facilities in what was then the old Watauga High School gymnatorium became a detriment to the serious academic growth of the theatre and dance programs as they expanded from the 1960s to the 1990s. Through nearly twenty years of advocacy, planning, administrative support, legislative support and several significant financial gifts, the theatre construction was completed late in the fall of 1993. Faculty and students spent the holiday break moving equipment, tools, supplies and properties into the new theatre. In January 1994, rehearsals and set and costume construction began for "A Midsummer Night's Dream," the spring production that dedicated and opened the new theatre.
Today Valborg Theatre continues to host six departmental theatre and dance productions each year and serves as a hands-on laboratory and classroom for the theatre design/technology program. It also serves as a venue for the Appalachian Summer Festival. The Department of Theatre and Dance has grown from a faculty of 2 in 1970 to a faculty and staff of 43 and a student body of 250 today. It also serves thousands of students at the university through its general education courses in the fine arts and wellness/literacy areas.
The department invites all of its alumni and friends to join in the celebration. For more information, or to register for the alumni reunion weekend, visit theatreanddance.appstate.edu/alumni. For non-alumni, tickets for the gala reception and performance of "A Midsummer Night's Dream," are $75 and available through the Schaefer Center box office at 800-841-2787 or locally at 828-262-4046. Tickets ordered by telephone can be mailed or picked up at the gala.
by Kevin Warner
About the Department of Theatre and Dance
The Department of Theatre and Dance is one of seven departments housed in Appalachian's College of Fine and Applied Arts. Its mission is to facilitate transformative experiences for students and the public, which cultivate compassionate, creative and collaborative communities through theatre and dance. The department also offers coursework for integrated learning through the arts to the general university student population. Its dynamic co-curricular production program provides exemplary theatre and dance experiences to departmental students, the university community and the region.
About Appalachian State University
Appalachian State University, in North Carolina's Blue Ridge Mountains, prepares students to lead purposeful lives as global citizens who understand and engage their responsibilities in creating a sustainable future for all. The transformational Appalachian experience promotes a spirit of inclusion that brings people together in inspiring ways to acquire and create knowledge, to grow holistically, to act with passion and determination, and embrace diversity and difference. As one of 17 campuses in the University of North Carolina system, Appalachian enrolls about 19,000 students, has a low student-to-faculty ratio and offers more than 150 undergraduate and graduate majors.
###
Media Contact
Kevin Warner
warnerks@appstate.edu
828.262.3028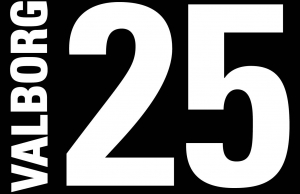 Tags: