By Nancye Edwards and Keith Martin
The Appalachian State University Department of Theatre and Dance is pleased to announce its upcoming Spring 2017 season of four unique productions taking place from February to May in the Valborg Theatre and the I.G. Greer Studio Theatre on the university's campus. Productions include "Silence," "The Mischief Makers," "Flight from the Mahabarath" and the Spring Appalachian Dance Ensemble.
The Appalachian State University Department of Theatre and Dance Spring 2017 season is listed below. Information about each production, including ticketing, is available at http://theatreanddance.appstate.edu.
"Silence" by Moira Buffini
Feb. 22–25, 2017 at 7 p.m.; Feb. 26, 2017 at 2 p.m.
Valborg Theatre
Spring Appalachian Dance Ensemble
March 29–April 1, 2017 at 7 p.m.
Valborg Theatre
"The Mischief Makers" by Lowell Swortzell
Presented by Appalachian Young People's Theatre
April 21, 2017 at 7 p.m.; April 22–23, 2017 at 2 p.m.
I.G. Greer Studio Theatre
"Flight from the Mahabarath" by Muthal Naidoo
April 26–29, 2017 at 7 p.m.; April 30, 2017 at 2 p.m.
Valborg Theatre
Theatre and Dance Department Chair Kevin Warner said the productions showcase the balance and diversity of the department's offerings, which have been a program hallmark for decades. "There is literally something for every taste, from the regional premiere of a contemporary playwright and a beloved children's theatre tale about storytelling to eight original dance pieces showcasing new choreography and the world premiere of a play by a South African writer who will be in residence for the first staging of her work," he said.
The Theatre Program will continue its production an entire main stage season of plays written by women. Dr. Paulette Marty, chair of the play selection process, gave credit to the three students who served on the committee that helped make this innovation possible.
"This is really exciting for students and faculty alike," Marty said. "The theme of how social forces shape our personal identities runs through the season. This isn't new – many plays through time have explored this same theme. What's intriguing about this set of plays is that they explore the many clever, deceitful, cruel, loving and delightful ways people subvert those social forces in order to live as their true selves. The plays take us to historical places like a burial mound in Viking-occupied England as well as to imagined places like 'The Mahabharata."
Sparkling with deliberate clashes of period and style and with nimble physical comedy is "Silence" by playwright Moira Buffini. Monty Python meets "Game of Thrones" in this dark comedy set in England at the turn of the first millennium. King Ethelred the Unready of England forces fiercely independent Princess Ymma of Normandy to marry a fourteen-year old Viking Lord named Silence. When King Ethelred turns against the couple, they flee across the countryside with a doubting priest, a mouthy servant and a blood-thirsty soldier who sees visions and yearns to speak telepathically. As violence unfurls around them, this motley group seek a place where they can escape the restrictions of their society and live as their true selves. "Silence" is also licensed for production by Samuel French Inc. and will be performed Feb. 22–26 in Valborg Theatre under the direction of Theatre Professor Dr. Paulette Marty.

The popular Appalachian Dance Ensemble will present eight new works of original choreography, including works by guest artists Dante Brown and Brad Parquette. Coordinated by Emily Daughtridge, associate professor of dance studies, this creative laboratory for faculty and students features a variety of work each semester. While primarily modern in style and form, pieces chosen for the concert demonstrate dance influences from ballet, jazz, folk and pop culture. The movement ranges from abstract to expressionistic, and rhythmic works of sheer physical energy, each exuding the joy of dance. Performances dates in the Valborg Theatre are March 29–April 1.

In addition to the main stage season, the Appalachian Young People's Theatre (AYPT) will tour the region with children's author Lowell Swortzell's "The Mischief Makers," a family comedy with "magnificent braggadocio, wild foolery, suspense, laughter, pandemonium!" This play introduces audiences to Anansi the Spider from Africa, Reynard the Fox from Europe and the Native American trickster, Raven. As the play opens, the three are found perched together sharing a totem pole. As they argue over who among them is the best trickster, they act out stories that best demonstrate their finest acts of trickery. Directed by AYPT alumnus and Theatre Professor Gordon Hensley, "The Mischief Makers" is produced by special arrangement with Dramatic Publishing with performances scheduled April 21–23 in the I.G. Greer Studio Theatre on Appalachian's campus.
One of the most exciting aspects of the entire season is the world premiere of "Flight of the Mahabarath," written by Muthal Naidoo, a South African playwright of Indian descent. Dr. Ray Miller, professor of dance studies and theatre arts, will direct this new work, which is based on one of the two major Sanskrit epics of ancient India. The playwright will be in residence for the first production of her new work.
The play looks at "The Mahabharata" from a woman's point of view and the epic becomes a metaphor for the patriarchal society in which women function mainly as adjuncts. The women fly from the epic into a different genre, drama. Their new home is the stage (as opposed to a book). On stage, they are involved in the process of giving form to their new reality, the play. Two men, also wishing to escape the social conditioning that denies them their identities, join the women in creating the play. This much-anticipated production will run April 26–30 in the Valborg Theatre.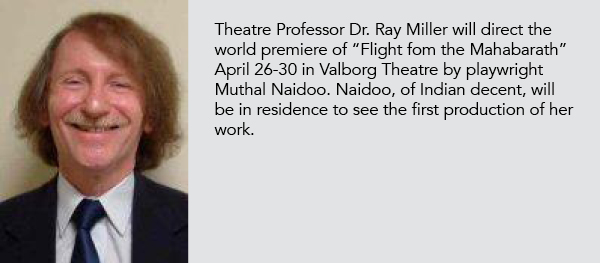 To purchase tickets for a performance, contact the Valborg Theatre box office at 828-262-3063, the Schaefer Center for the Performing Arts box office toll-free at 800-841-ARTS (2787), or visit http://theatreanddance.appstate.edu.
Media Contact:
Keith Martin
828-262-8179
MartinKT1@appstate.edu
About the Department of Theatre and Dance
The Department of Theatre and Dance is one of seven departments housed in Appalachian's College of Fine and Applied Arts. Its mission is to facilitate transformative experiences for students and the public, which cultivate compassionate, creative and collaborative communities through theatre and dance. The department also offers coursework for integrated learning through the arts to the general university student population. Its dynamic co-curricular production program provides exemplary theatre and dance experiences to departmental students, the university community and the region.
About Appalachian
Appalachian State University, in North Carolina's Blue Ridge Mountains, prepares students to lead purposeful lives as global citizens who understand and engage their responsibilities in creating a sustainable future for all. The transformational Appalachian experience promotes a spirit of inclusion that brings people together in inspiring ways to acquire and create knowledge, to grow holistically, to act with passion and determination, and embrace diversity and difference. As one of 17 campuses in the University of North Carolina system, Appalachian enrolls about 18,000 students, has a low student-to-faculty ratio and offers more than 150 undergraduate and graduate majors.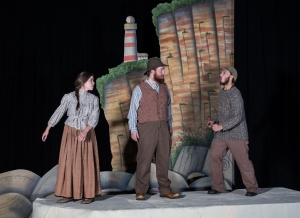 Tags: