The Appalachian State University Department of Theatre and Dance presents five performances of the "First Year Showcase" Sept. 26-30. This annual event runs concurrently with Homecoming week in Boone and offers 7 p.m. performances Wednesday-Saturday and a Sunday matinee at 2 p.m. The production will be held in I.G. Greer Studio Theatre on the university campus, and tickets are $7 for students and $12 for adults.
Students and faculty have created original vignettes and dances to convey this year's showcase theme, time. Topics include "not enough time," "too much time," "the wrong time," "the right time," "out of time," "just in time" and "all of the time," each of which serve as inspiration for this one-of-a-kind show. Adjunct professor Trimella Chaney, who coordinates the theatrical elements of the production, says that the "First Year Showcase" is important because it "deals with current issues as well as things that make students unique."
Professor of Dance Studies Marianne Adams is coordinating dance and movement in the showcase.
"This very quick, intensive process always brings surprises — new friendships, insights and unimagined outcomes — that often inspire both creativity and ingenuity, due to the compressed rehearsal period."
This year, six choreographers are creating original dances abstractly based on the theme of time to highlight incoming student talent. In addition to Adams, Department Chair Kevin Warner, Senior Lecturer Regina Gulick and Adjunct Instructor Caroline Daniel are contributing faculty choreographers. The student choreographers are Sabrina Furches, a senior dance studies major from Lexington, and Katie Woodruff, a senior dance studies major from Hillsborough.
The showcase is open to all first-year students who are interested in majoring or minoring in any of the six different degree concentrations in the Theatre and Dance Department. This year the department welcomes the largest incoming class in its history with a record 73 intended majors and minors.
"The new, promising talent in our department will delight audiences through time… past, present, and future," said Chaney, who guarantees that the performances will be lively and varied, featuring the abilities of actors, dancers and technical theatre students as well.
Cheney added, "The time is now to see the incoming class as they carry on the legacy of those before them in the Department of Theatre and Dance."
Tickets are available in person at the Schaefer Center for the Performing Arts box office Monday through Friday 9 a.m.–5 p.m., by phone at 800-841-ARTS (2787), or 828-262-4046 and theatreanddance.appstate.edu.
The I. G. Greer Studio Theatre is located on the east side of campus underneath I.G. Greer Hall at 401 Academy Street. The entrance to the theatre is the wide red door on the lower northeast side of the building. Parking on campus in staff/faculty spots will be available after 5 p.m., and the College Street parking deck near Belk Library and Information Commons will be available after 5:30 p.m.
###
About the Department of Theatre and Dance
The Department of Theatre and Dance at Appalachian State University is housed in the College of Fine and Applied Arts. The mission of the department is to facilitate transformative experiences for students and the public, which cultivate compassionate, creative and collaborative communities through theatre and dance. The department also values the opportunity to offer coursework for integrated learning through the arts to the general university student population. Vital to the support of this mission is a dynamic co-curricular production program that provides exemplary theatre and dance experiences to departmental students, the university community and the region.
About Appalachian State University
Appalachian State University, in North Carolina's Blue Ridge Mountains, prepares students to lead purposeful lives as global citizens who understand and engage their responsibilities in creating a sustainable future for all. The transformational Appalachian experience promotes a spirit of inclusion that brings people together in inspiring ways to acquire and create knowledge, to grow holistically, to act with passion and determination, and embrace diversity and difference. As one of 17 campuses in the University of North Carolina system, Appalachian enrolls about 19,000 students, has a low student-to-faculty ratio and offers more than 150 undergraduate and graduate majors.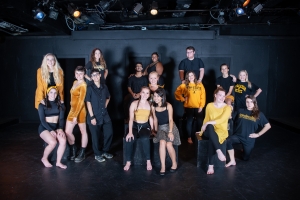 Tags: