App State sophomore Abbey Metcalf decided to strengthen her linguistic ability by taking an eight-week trip to Morocco over the summer.
The trip gave Metcalf a complete cultural immersion experience, which helped her study the Arabic language. Her ultimate goal is to become an intelligence officer for the Army.
"I want to go to the Defense Language Institute in the army, and I hope this helps with that," Metcalf said. The Defense Language Institute Foreign Language Center is the Department of Defense's premier school for foreign language education and training.
While looking into summer training opportunities, Metcalf found Project GO (Global Officer), which allows qualified ROTC students to hone their linguistic skills with overseas study opportunities. Through the program, Metcalf stayed with a host family of three brothers and their parents in Fez (or Fes), Morocco.
"It was definitely a culture shock at first, but my host family were all super nice," Metcalf said. "Living with them really helped my Arabic, because they didn't speak English, so I had to speak Arabic the whole time."
While in Morocco, Metcalf studied at the Arabic Language Institute. Classes started at 8 am and lasted until 4-5 pm, with an hour-long break.
But it wasn't all work. For instance, Metcalf took a weekend trip to the Sahara Desert to visit the Bedouin people. While traveling through the desert, Metcalf rode a camel for the first time, something she never expected to do in her life.
Metcalf enjoyed the Moroccan culture (except for the 100-degree weather), and brought some of that culture back home. Her host mother was kind enough to teach Metcalf how to cook traditional Moroccan dishes, which is a skill that will last for a lifetime.
Appalachian State doesn't offer a major that specifically trains students for intelligence work, so Metcalf decided to get creative with her classes. She is majoring in political science, while minoring in both Arabic and Military Science and Leadership. When Metcalf graduates, she will be commissioned as a second lieutenant, while also having a strong base in Arabic and political science. Metcalf also expressed an interest in learning Russian, along with other Arabic dialects like Farsi.
Metcalf demonstrates how a student can set goals, look for educational opportunities, and follow through, getting them one step closer to their dreams.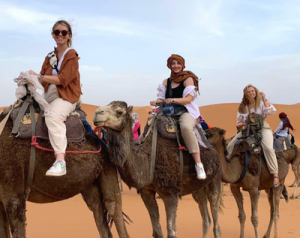 Tags: