By Morgan Lampman
Boone, N.C. - Julia De Brocq, a senior interior design major at Appalachian State University from Charlotte, N.C., won third-place in the 2020 PAVE Student Design Competition in collaboration with SketchUp. De Brocq's award came with a $1,000 cash prize and recognition in official press releases.
According to PAVE, the student design competition provides students with real world design experience by creating a project for an actual client. This year, PAVE partnered with 3D design software SketchUp with the challenge of having students design a small retail space that showcases the software's capabilities. Undergraduate students from more than 30 countries competed in the design challenge.
De Brocq, a longtime user of SketchUp, said she reframed her experience with the design software to create an experience that first-time users could learn and enjoy. "I had to look at it from the perspective of someone who has no idea what the software is, or the idea of buying or selling a software," she said.
The Design Process
De Brocq's SketchUp interactive pop-up design focused on the company's solutions for four different design fields: architecture, construction, kitchen/bath/interior design and residential construction. In the "Explore" section, customers see the capabilities of SketchUp and how they can design their space. The "Create" space uses tools to draw and scan designs, which can be seen in real time thanks to the projection screen and virtual reality space in the "Visualize" section.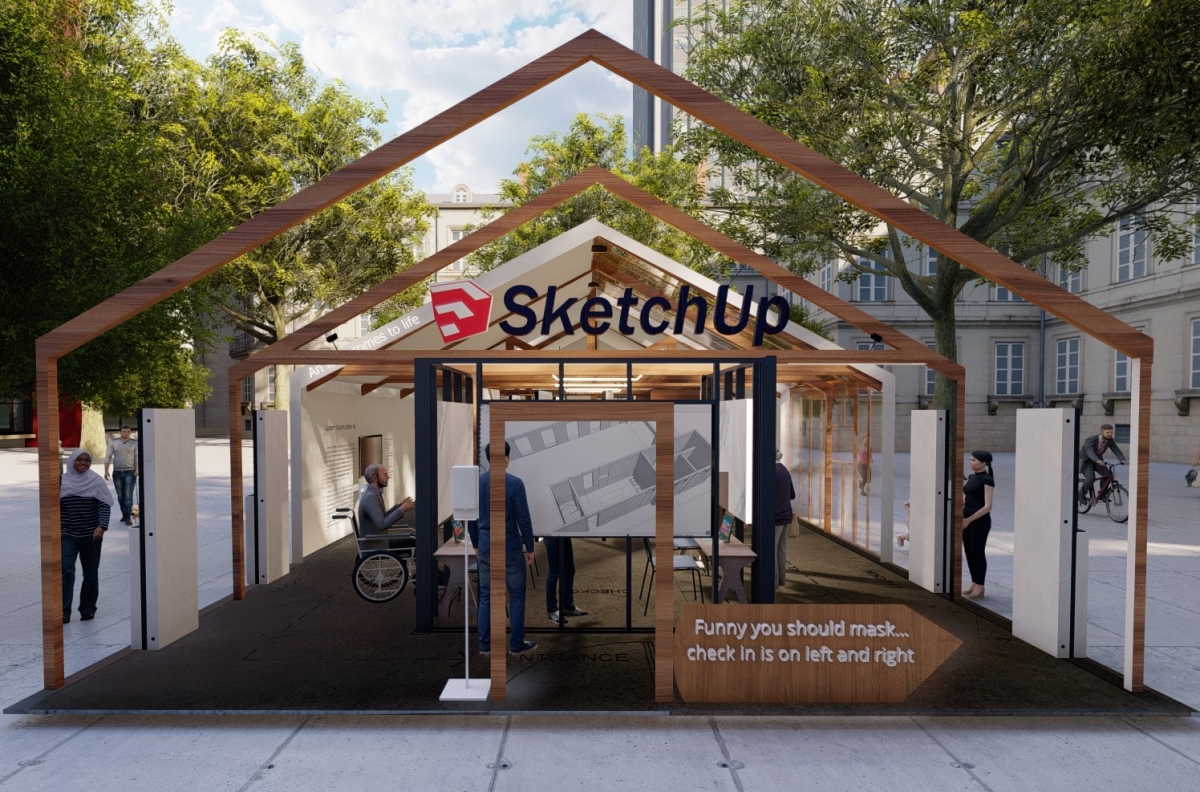 De Brocq said she focused on how SketchUp's 3D design features set it apart from its competitors as she designed an inviting, creative space for new and current users.
"What sets SketchUp apart from many of their competitors is the ability to design in 3D," De Brocq said. "Features such as the projection screen and virtual reality room reinforce the appeal of 3D. Ultimately, I wanted to create a journey where design professionals and first-time users can build on their knowledge and understanding as they go through."
De Brocq selected eco-friendly materials for the design space to reflect SketchUp's sustainability efforts. LED PriWatt screens with motion sensor activation add to the space's energy efficiency. To adapt to evolving changes and obstacles related to COVID-19 protocols, De Brocq incorporated sanitation stations and keyboards that allow for full-surface sanitation. The open floor plan allows for way-finding and reinforces social distancing protocols.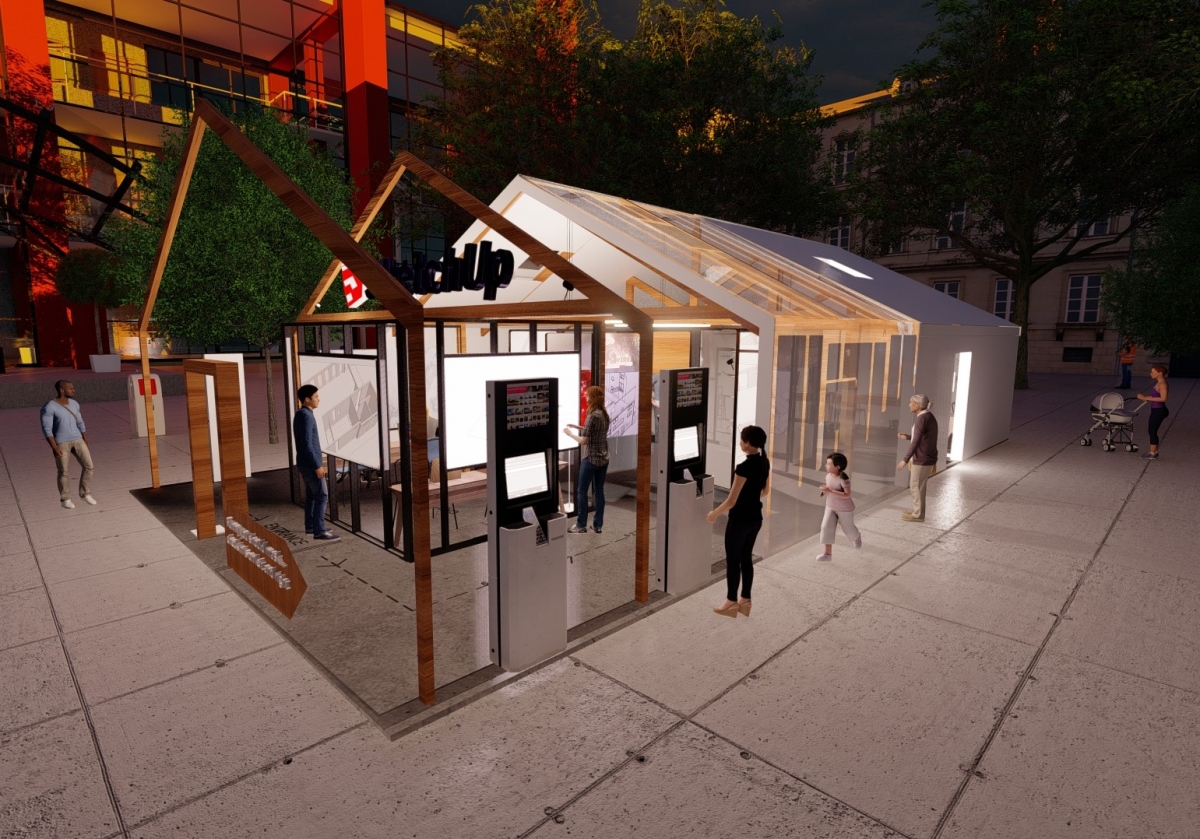 Support From All Sides
The 2020 PAVE Student Design Competition is De Brocq's first design competition, though she has competed in fine arts competitions.
"The competition was an incredible experience," De Brocq said. "It's inspired me, and more than anything, I really enjoyed the process of representing a client. Getting to do that was amazing."
De Brocq credits her instructor Chelsea Helms, assistant professor of Interior Design at App State, with inspiring her and providing guidance throughout the design process. Helms, who teaches in the Department of Applied Design, says De Brocq is an excellent example of the kind of students and work that the department produces.
"Working with Julia throughout the semester, it was evident she had a clear understanding of the design opportunity, which she let drive her to an unforgettable concept direction," said Helms. "Julia's ability to capture a big idea and implement it into the design thoughtfully and creatively is a notable example of the great work of our Interior Design students at App State. We are enthusiastic and grateful to celebrate Julia's recognition in the PAVE Student Design Competition."
Brian Davies, the Department Chair of App State's Department of Applied Design, recognizes that De Brocq's win came despite an incredibly difficult year, which gave the department and those involved in the competition a reason to celebrate.
"AppState's Interior Design Program applauds Julia's effort, submission, and well deserved honor. Julia overcame a number of challenges to articulate her vision in compelling visuals that won recognition for her innovative proposal," said Davies. "The Interior Design Program is grateful to PAVE and SketchUp for the inspiration and opportunity the 2020 Student Design Competition provided during a very difficult semester. Julia, PAVE, and SketchUp gave us all--her faculty and her classmates--cause to celebrate at the end of a difficult year."
Next Steps
De Brocq said she has always known she would major in interior design, and decided to get her B.S. in interior design after contacting Alex Poorman, an associate professor of interior design in Appalachian's Department of Applied Design.
"Honestly, I just kind of always knew. It's such a weird answer, but it was always something that I knew I was going to do," De Brocq said. "I didn't know how I was going to do it, if I was going to be able to sustain myself, but I've always loved architecture so I knew I was going to do something like that."
After graduation, De Brocq plans to move to Chicago and work for a design firm.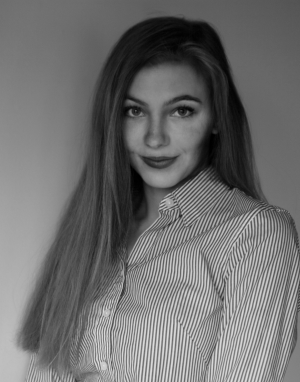 Tags: