By: Morgan Lampman
BOONE, N.C.-- Shanshan Lou, Ph.D., associate professor of Communication-Advertising at Appalachian State University has been selected as one of three fellows for a prestigious 2022 UNC System Faculty Fellowship.
Lou now occupies a role in identifying and addressing system-wide needs in moving towards a more digital educational environment in support of UNC System student success. Lou and the other fellows will work with key stakeholders across the UNC System to explore innovative teaching strategies and technologies that support all forms of learning.
Lou, whose interest is in the focus area of Technology-Enhanced Teaching and Learning, believes technology will provide more opportunities for students and a brighter future for education:
"As an instructor who teaches courses in our distance education programs for about seven years, I have become equipped to use various online teaching tools and technologies to communicate with students effectively, help them build online learning competencies, and provide support for my students in pursuing their degrees online ," said Lou. "The fellowship will offer me a unique opportunity to become familiar with academic affairs issues and participate in special projects in the digital teaching and learning field."
Lou also earned Quality Matters Certification by developing the online Mass Media and Society course, one of the first six courses certified by App State's Quality Matters course development program.
The COVID-19 pandemic forced many higher education institutions into utilizing digital learning in order to comply with social distancing mandates and reduce the rate of infection. Now, as the pandemic seems to be winding down, this has opened up the doors to exploration into the ways digital and hybrid learning can continue to benefit students through increased access to education and learning opportunities. In addition to responding proactively to the digital demands of the pandemic by attending digital teaching courses and altering her courses to be more suitable and inclusive for a digital environment, Lou gained leadership experience in this area.
"Immediately after the pandemic, I worked closely with the Center for Academic Excellence (CAE) as a faculty coach to assist with their Online Teaching Excellence Institute (OTEI)," said Lou. "Through these experiences, I developed a deeper understanding of the importance of listening to faculty concerns and needs and taking them into consideration when developing initiatives that support faculty success."
Lou's embracement of the digital learning era extends beyond the classroom as well. She designed digital study abroad and cross-cultural communication opportunities so students wouldn't miss out on the opportunity to connect.
"I worked with my co-leader to convert our traditional study abroad trip to a virtual program. We used innovative technologies, such as VR applications , to facilitate virtual tours. We invited guest speakers from China to our virtual classroom," said Lou. "The program provides an opportunity, especially for students who may not have the resources to travel abroad, to explore another culture and learn from practitioners who are knowledgeable and passionate about international advertising and business."
During their time as UNC System Faculty Fellows– which lasts one year–the fellows will research how teaching technologies applied in emerging physical–and possibly virtual–spaces will drive student innovation and provide recommendations for how these technologies can be implemented in the UNC System. About being honored with this fellowship selection, Lou said:
"I am proud to be representing App State in this position. I believe this fellowship will help me become further informed of the opportunities and challenges across constituent institutions and work collaboratively to create technical solutions to address the needs of administrators, faculty and students. I look forward to bringing knowledge I acquired through this fellowship to leadership at App State after my one-year tenure."
About the Department of Communication
One of seven departments housed in the College of Fine and Applied Arts, the Department of Communication at Appalachian State University focuses on preparing students to succeed in the varied fields within the communication industry. The department offers five majors – advertising, communication studies, electronic media/broadcasting, journalism and public relations – and a minor in communication studies. Graduates work in a wide range of positions in media, corporate, agency, government and nonprofit organizations. Learn more at https://communication.appstate.edu.
College of Fine and Applied Arts

Appalachian State University's College of Fine and Applied Arts is a dynamic and innovative group of seven academic departments, bringing together a variety of perspectives, experiences and real-world education to provide unique opportunities for student success. The college has more than 3,000 undergraduate and graduate majors. Its departments are Applied Design, Art, Communication, Military Science and Leadership, Sustainable Development, Sustainable Technology and the Built Environment, and Theatre and Dance. Learn more at https://faa.appstate.edu.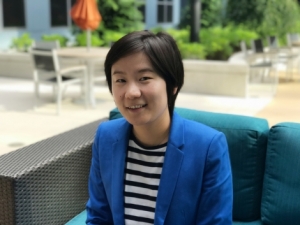 Tags: