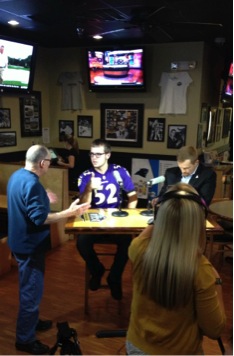 The competition was fierce at the auditions for "Sports Bar," one of many original programs to air on Appalachian State's new television station AppCable this spring. Twenty-two students tried out for three show panelist spots on Nov. 12, 2014.
Contestants sat down with the host of "Sports Bar" David Jackson, Assistant Director of Athletics, to discuss popular sports topics. Cameras were rolling at The Rock Sports Bar & Grill as the students and Jackson exchanged off-the-cuff remarks in front of an audience.
"The event brought me back to my days as a student at Appalachian. I wish there had been an opportunity like this for me. The contestants certainly were very knowledgeable, and their knowledge was pretty broad-based. We talked about everything from NASCAR to NFL to wrestling. You name it—we talked about it," said Jackson.
The casting featured contestants from a variety of majors including accounting, biology, electronic media/broadcasting and public relations. In the following weeks, Michael Fields, general manager of AppCable, and his team will review the footage from the auditions and select the three winners who will appear on the weekly show.
Out of the 22 contestants, only two female students auditioned for "Sports Bar." Torrey Feldman, one of the two female hopefuls and a senior electronic media/broadcasting student, commented on being a woman in a male-dominated industry. "Because I grew up watching sports with my dad and had always done cheerleading, I knew the rules of the game. As long as I know what I'm talking about and have the stats, I will be respected immediately despite being a woman," Feldman said.
Robin Palmer, an electronic media/broadcasting junior, competed wearing a Baltimore Ravens jersey, which immediately prompted Jackson to engage him in banter about Steve Smith Sr., the newly acquired wide receiver for the team. "Although my dream job is to be a producer, this audition was a way for me to get my foot in the door," Palmer said.
"Being selected to be a panelist of 'Sports Bar' is a great opportunity for students to sit in front of a camera and produce stand-out resume material. This is a very tangible thing and a real-world experience," Jackson said.
The newly-created station is a project of Appalachian State's Electronic Media/Broadcasting Program that aims to take campus television to the next level. The station will showcase the High Country community's immense range of assets by utilizing the production skills of its students. The entire program schedule will be streamed on the Internet and viewable anywhere in the world, making AppCable an important outlet for telling Appalachian's story to an international audience. AappCable is located in the new George G. Beasley Media Complex at the corner of Depot and Rivers streets in Boone. For more information about the station, please contact Michael Fields by phone at (828) 262-3295 or by e-mail at fieldsma@appstate.edu.