App State alumni came back to campus on Oct. 27-28 to take over the WASU radio station during the Alumni Takeover.
Alumni Takeover is an annual event at WASU that takes place before Homecoming. WASU alumni pay a $100 donation to host an hour-long timeslot on the air, and each alumnus was paired with a different student from WASU, who worked the console. According to WASU General Manager Dan Vallie, this is a phenomenal opportunity for students, for both networking and learning first-hand from true professionals.
"You can see how excited all of the students are," Vallie said, "and I think the alumni like this even more than the students do. They love meeting and working with the students."
The original idea for Alumni Takeover came from App State alumni Jeff Merritt, the executive director of Centennial Authority / PNC Arena.
"He and I were talking a few years ago, and he said 'why don't we just bring back alumni for a day,' and it took off from there," Vallie said.
Alumni Takeover is typically a one-day event, but the event was stretched to two days to celebrate WASU's 50th anniversary.
Not just any App State alumni can participate in Alumni Takeover – it's reserved for former students who worked at WASU. Many of the alumni play music that was popular when they were students, giving listeners exposure to different music than they are used to.
Most of the participating alumni are from the Carolinas, but a couple of alumni currently reside in Jacksonville, Fla., and Seattle, Wash. Instead of coming to Boone for Alumni Takeover, they pre-recorded their time slot, and the recording was played on air.
Doug Rice
App State alumni Doug Rice expertly navigated his two-hour timeslot on Thursday, Oct. 27. Rice is the lead anchor and president for PRN (Performance Racing Network), which announces NASCAR races.
Rice brought an incredible amount of experience to WASU. While on air, Rice briefly mentioned his career, and smoothly led into music, including a song from North Carolina's favorite sons - The Avett Brothers.
Rice also thanked his old frat buddies and gave a shoutout to a few old friends. Soon after, WASU student workers received a call from one of Rice's old friends named Beverly, who happened to be listening to WASU.
"When we do this event, this kind of thing happens," Vallie said. "People come out of the woodwork with calls."
According to Vallie, he tries to pair students up with alumni who share their interests, but he can't always do that because of student's schedules. For example, Vallie had WASU student Emily Halk work with Rice, because she is interested in pursuing a career in NASCAR broadcasting.
"I did the Keller Radio Talent Institute over the summer, so I had met Doug (Rice) before, but having one-on-one time with him was so valuable," Halk said. WASU students are well-prepared for this moment.
Every WASU student must take an introductory radio class and undergo six observation hours before going on air. At first, students only watch, then they pre-record voice tracks, and eventually, they go on air for the first time. But nothing beats the first-hand experience of working with a true professional like Rice.
Sharing Experiences
After his airtime ended, Doug Rice sat down with fellow alumnus Craig Mundy, who is currently a sales executive at iHeartRadio, and Dan Vallie. While they shared stories with each other, WASU students slowly started trickling in, and before they knew it, they had an audience.
Rice talked to the students about announcing NASCAR races and stressed the importance of preparation and passion. He also mentioned his mindset during and after announcing races.
"When we do a race, if it's over at midnight, I can't just go home and sleep. I need 2-3 hours to decompress," Rice said. He also gave the following job advice:
"Don't worry about that first job. Whatever it is, take it," Rice said.
On the other hand, Mundy talked to students about the importance of sales in radio, drawing on his sales experience. He also talked about how different radio was when he was a student.
Mundy graduated from App State in 1982, back when App wasn't as good at football, but was better at basketball.
Everything on the station was live when Mundy was at the radio, which created interesting situations. For example, if Mundy needed to take a bathroom break, he would play a long song like Peter Frampton's "Do You Feel like We Do," which is over 14 minutes long.
Thursday afternoon provided an excellent snapshot of the alumni who participated in Alumni Takeover. From noon to 4 pm, WASU was hosted by the following Alumni:
Doug Rice – Graduated in'77, broadcast out of Chapell Wilson Hall
Craig Mundy – Graduated in '82, broadcast out of Wey Hall
Christian Morgan – Graduated in '14, broadcast out of Beasley Media Complex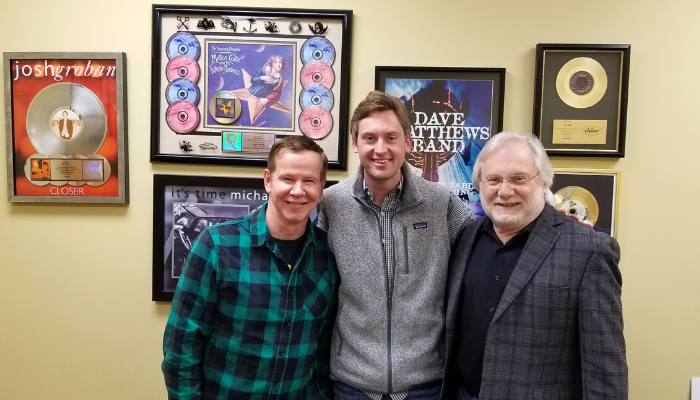 From left: Craig Mundy, Christian Morgan and Dan Vallie pose for a picture in Vallie's office.
Morgan, currently a meteorologist at The Good Morning Show at WFMY Television in Greensboro, shared a fun story before his timeslot started.
According to Morgan, he was the first voice that broadcast from the Beasley Media Complex. Fun fact – that voice came from his laptop while he was sitting on a beach hundreds of miles away.
Sharing these stories, these experiences, and this knowledge is what's so valuable about Alumni Takeover.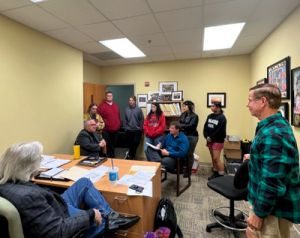 Tags: