By Anna Rhodes
The Turchin Center for the Visual Arts at Appalachian State University invites the community to experience "Theater Piece #1 Revisited: A Happening" in conjunction with the First Friday Downtown Boone Art Crawl on April 6. The galleries will be open until 9 p.m. and "The Happening" will be held from 6–8 p.m. The evening will include refreshments, a cash bar and is free and open to the public.
The event is a celebration of what is credited to be the original "happening," which occurred at the Black Mountain Summer School in 1952. It was coordinated over six decades ago by Merce Cunningham and John Cage, who wanted to encourage students and the community to look at art in a new and different manner.
"The Happening" will be presented in conjunction with a semester-long commemoration of the Black Mountain Experience coordinated through the the College of Arts and Sciences under the direction Dr. Billy Schumann, director of the Center for Appalachian Studies.
Dr. Ray Miller, a professor of theatre and dance at Appalachian and the coordinator of the event said, "Happenings started in the 1950s as a playful way in which to break out of the stifling and conventional ways of thinking about and making art. Today, I think that happenings are events that help us see and understand connections between apparently unrelated forms of performance. During a time in which we can experience not just Future Shock, but Present Shock as well, happenings can help us creatively engage with a constantly changing world with confidence and openness to unexpected possibilities."
When asked what they hope to accomplish with this recapturing of the original Happening, Miller expressed that he and his collaborators were hoping recreate the feelings of the first event.
"The feelings that there are many ways in which to perform and to engage an audience, that we do not have to lay things out in a linear and predetermined rational way; that an audience is free and can express its own sense of agency by visiting each performance on its own terms; that simultaneity in and of itself can create a kind of cognitive dissonance that allows for each person to select and listen to or the cacophony of artists working in a shared or neighboring space; that art making can be about discovery and not conclusions devised by a musician, choreographer, director or poet; that sharing a space with others (audiences and artists alike) can create a communal sense that we are dependent upon each other to help to sort things out and much, much more," he shared.
The noted choreographer Merce Cunningham described the first Happening in writings about his life.
"At the Black Mountain Summer School in 1952, [John] Cage organized a theater event, the first of its kind. David Tudor played the piano, M. C. Richards and Charles Olsen read poetry, Robert Rauschenberg's white paintings were on the ceiling, Rauschenberg himself played records, and Cage talked. I [Cunningham] danced. The piece was forty-five minutes long and, as I remember, each of us had two segments of time within the forty-five to perform our activity."
According to Cunningham, "The audience was seated in the middle of the playing area, facing each other, the chairs were arranged on diagonals, and the spectators unable to see directly everything that was happening. There was a god which chased me around the space as I danced. Nothing was intended to be other than it was, a complexity of events that the spectators could deal with as each chose."
Time will be set aside at the end for a discussion of the nature of a happening, how it was experienced in the 1950s and 1960s and to talk about the relevance it might have for audiences today.
Participants include Appalachian faculty Joseph Bathanti, professor in the Department of English; Rob Falvo, professor in the School of Music; Cara Hagan, assistant professor of dance studies; Adrian Rieder, lecturer in the Department of Theatre and Dance; and Jessica Wood, adjunct instructor in the Department of Theatre and Dance. Student participants include Jordan Bolick, a senior theatre performance major from Lenoir, and Murilo Artese, a junior electronic media and broadcasting major from Sao Paulo, Brazil. Also involved will be poet Dan Jenkins and readers Katrina Plato, a visiting lecturer in the Department of Art, and Virginia poet Susan Robbins.
The Turchin Center is located in downtown Boone at 423 West King Street. Parking will be available after 5 p.m. on campus in faculty/staff lots, and after 5:30 p.m. in the College Street parking deck near Belk Library and Information Commons.
Continuing Exhibitions at the Turchin:
"Art Department Faculty Biennial" (through May 5)
"Creative Democracy: The Legacy of Black Mountain College" (through June 2)
"Pieces of the Puzzle: Community Outreach" (through June 2)
"Appalachian Mountain Photography Competition" (through June 2)
"High Country Herbarium: Preserving Plants & Plant Communities in the Southern Appalachians" (through Aug. 4)
For more information visit tcva.org/exhibitions
About the Department of Theatre and Dance
The Department of Theatre and Dance is one of seven departments housed in Appalachian's College of Fine and Applied Arts. Its mission is to facilitate transformative experiences for students and the public, which cultivate compassionate, creative and collaborative communities through theatre and dance. The department also offers coursework for integrated learning through the arts to the general university student population. Its dynamic co-curricular production program provides exemplary theatre and dance experiences to departmental students, the university community and the region.
About the Turchin Center for the Visual Arts
The Turchin Center for the Visual Arts, named for university benefactors Robert and Lillian Turchin, fulfills Appalachian State University's long-held mission of providing a home for world-class visual arts programming. The largest facility of its kind in the region, the center presents exhibition, education and collection programs that support the university's role as a key educational, cultural and service resource. The center presents multi-dimensional exhibits and programs and is a dynamic presence in the community, creating opportunities for people of all ages and backgrounds to experience the power and excitement of the visual arts. Its seven galleries host changing exhibitions featuring local, regional, national and international artists.
The Turchin Center is located at 423 West King St., in Boone. Hours are 10 a.m. - 6 p.m., Tues. - Thurs. and Saturday, and Noon - 8 p.m., Friday. The Center is closed Sunday and Monday, and observes all university holidays. Admission is always free, although donations are gratefully accepted. For general inquiries, to be added to the mailing or e-news list, to obtain donor program details or to schedule a tour, call 828-262-3017, e-mail turchincenter@appstate.edu or visit tcva.org. The Turchin Center can also be followed on Facebook and Twitter @TurchinCenter.
About Appalachian
Appalachian State University, in North Carolina's Blue Ridge Mountains, prepares students to lead purposeful lives as global citizens who understand and engage their responsibilities in creating a sustainable future for all. The transformational Appalachian experience promotes a spirit of inclusion that brings people together in inspiring ways to acquire and create knowledge, to grow holistically, to act with passion and determination, and embrace diversity and difference. As one of 17 campuses in the University of North Carolina system, Appalachian enrolls about 19,000 students, has a low student-to-faculty ratio and offers more than 150 undergraduate and graduate majors.
###
Media Contacts:
Dr. Ray Miller
Department of Theatre and Dance
millerrf@appstate.edu
Mary Anne Redding or Lynn Rees-Jones
Turchin Center for the Visual Arts
reddingm@appstate.edur or reesjonesld@appstate.edu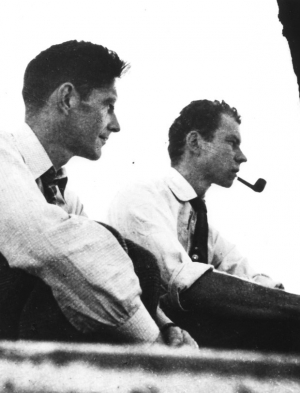 Tags: