An Evening at the Ecopolis: Envisioning a Regenerative City
An Evening at the Ecopolis: Envisioning a Regenerative City
A multimedia theatrical piece by Jeff Biggers featuring local musician Alexa Rose
February 17, 7 p.m.
Grandfather Mountain Ballroom (137ABC), Plemmons Student Union
Free and open to all members of the university and Boone community
Music, stories and a deep passion for the world in which we live—what more could you ask of your Friday night? In "An Evening at the Ecopolis," Jeff Biggers presents a multimedia theatrical piece on envisioning a transition to a "regenerative city" featuring singer-songwriter and Appalachian alumna Alexa Rose. First presented in Iowa City, "Ecopolis" spawned a series of forums, various initiatives, a city proclamation and a forthcoming book by Biggers. He has since been touring a production of "Ecopolis" nationally, adapting the stories to local history and endeavors and incorporating local musicians in each locale. Join us for this inspiring night of sustainability storytelling.
About Jeff Biggers and the Climate Narrative Project
Winner of the American Book Award, Jeff Biggers is the author of six books of narrative non-fiction, including "Reckoning at Eagle Creek: The Secret Legacy of Coal in the Heartland," recipient of the David Brower Award for Environmental Reporting. Biggers has worked as a journalist, playwright, historian and educator on sustainability issues across the US, Europe, Mexico and India. His stories have appeared in the New York Times, Washington Post, The Guardian, and National Public Radio. Biggers has connections to our region and University; he authored "The United States of Appalachia," a book that has been used by classes at Appalachian, and was keynote speaker for the Center for Appalachian Studies conference in 2010. Biggers currently serves as Writer-in-Residence at the University of Iowa's Office of Sustainability, where he founded the Climate Narrative Project.
The Climate Narrative Project is an investigative initiative: What accounts for the gap between science and action on climate change, and how can stories reshape the climate narrative and galvanize action? The project is a special media arts initiative in the Office of Sustainability at the University of Iowa, designed to reach across academic disciplines and chronicle climate solutions and regenerative approaches to energy, food, agriculture, water and waste management, community planning and transportation. Selected Fellows work with Writer-in-Residence Jeff Biggers on semester-long investigative projects, using visual arts, film, radio, theatre, dance, spoken word and creative writing mediums. Over the past year, the project's theme has been climate justice, a topic of great interest to faculty and students on Appalachian's campus.
About Alexa Rose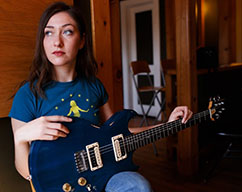 Sustainable Development alumna Alexa Rose will perform her original music as part of "Ecopolis." This Virginia-born singer-songwriter has been writing songs for nearly a decade now, and became a touring musician upon graduating from Appalachian State University in 2015. She has been called a "rising voice of the region," winning Asheville's prestigious Brown Bag Songwriting Contest in 2016. On New Year's Day, Rose released her new album "Low and Lonesome," a folk album with simple arrangements that lend themselves to the frankness of Rose's masterful phrasing, allowing the natural beauty of her warbling soprano to transport the listener to new places through familiar territory. This event is a wonderful chance to see this up-and-coming artist perform live.
Sponsors
These events are coordinated and sponsored by the Goodnight Family Department of Sustainable Development with support from the College of Fine and Applied Arts, the College of Arts & Sciences, the Office of Sustainability, the Center for Appalachian Studies, the Department of Theatre and Dance, the Doctoral Program in Educational Leadership, the Department of English, the Department of Anthropology, and the Humanities Council.