Tyree Wilmoth Graduation Speaker 2021 Spring
Graduate Speaker Tyree Wilmoth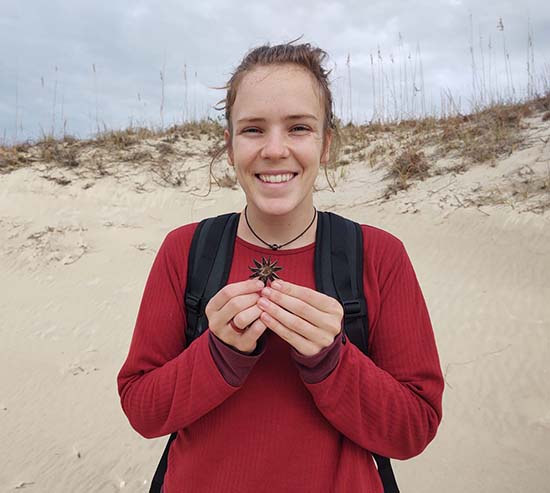 By Amanda Brasier
A brief moment observing two young Rwandan boys gather water from a rural pond influenced Tyree Wilmoth's decision to dedicate her future toward creating access to clean water.
Wilmoth, who graduates this spring with her master's degree in Appalachian State University's Appropriate Technology program, said she realized in that eye-opening moment in Africa that she had taken this precious resource for granted.
"My mom and I traveled to Rwanda to volunteer at an orphanage for a month after I graduated from high school in 2014," she said. "When we stepped outside the grounds of the orphanage, I saw two young boys carrying milk jugs for gathering water. They filled them with water from a stagnant pond with cows nearby. I realized then just how valuable and important clean water is, and that people don't always have access to drinking water that is safe."
In her studies at App State, Wilmoth researched a variety of different natural energy systems, including water, with her thesis focusing on factors that affect water filter adoption and use in resource-limited communities. Based on her accomplishments, she was inducted into the Cratis D. Williams Graduate Honor Society and chosen as the College of Fine and Applied Arts' graduate student speaker.
Read more about Wilmoth's App State experience.
Banner Carrier Dr. Janice T. Pope
The College of Fine and Applied Arts is honoring Interim Dean Janice T. Pope, PhD, as its Banner Carrier for the spring 2021 commencement to thank her for her leadership since August 2019 as the college's interim dean.
Pope joined the Appalachian State University faculty in 1995 and is a professor and past department chair for the Department of Communication.
She led the college during the COVID-19 pandemic, which has been recognized as some of the most difficult times in the university's history.
Department Banner Carriers
We are honoring our department chairs with the role of department banners. Thanks to each of them for their leadership on behalf of the college.
Brian Davies, Applied Design
Dr. Jim Toub, Department of Art
Dr. Scott Welsh, Department of Communication
Lt. Col. Chris Kleman, Military Science and Leadership
Dr. Richard Reingans, Sustainable Development
Dr. Brian Raichle, Sustainable Technology and the Built Environment
Michael Helms, Theatre and Dance
Junior Marshals Spring 2021
Wes Adams, Communication-Advertising
Katie Ballard, Dance Studies
Jackson Brown, Communication Studies
Angie Rinehart Burleson, Communication-Advertising
Dawson Robert Catherwood, Sustainable Technology
Cecilia Chan, Theatre Studies
Maggie Davis, Communication-Public Relations
Brenna Dowd, Sustainable Technology
Delaney England, Art Education
Emily Gieszelmann, Sustainable Development--Agroecology
Joshua Knapp, Art-Graphic Design
Kaylor Mead, Applied Design-Interior Design
Hannah Rowe, Art-Graphic Design
Lakin Stevens, Communication-Advertising
Kazoua Thao, Studio Art
Grace Waugh, Sustainable Technology
Leslie Webb, Applied Design-Interior Design